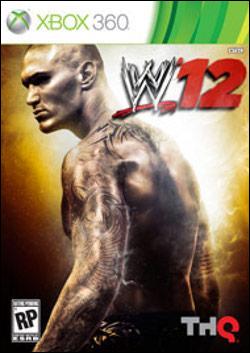 WWE '12
by Matt Paligaru

October 19, 2011

Last year, WWE Smackdown vs. Raw 2011 ended the sports season by finishing on many critics top 5 and top 10 lists, and beginning to garner the designation of "Best Wrestling Game Ever." With some stiff competition to wade amongst (mostly its previous incarnations and N64 games, since almost no wrestling franchise has touched SvR for years), this game stood head and shoulders above some of the previous games, boasting many innovative features that were sorely needed in the online era. Finally, the ability to share created wrestlers, and customize your own shows (through the Universe mode) meant gamers' voices and fingerprints could be left a world over. THQ could simply have tweaked a few things here and there, called it WWE 2012, let it be and it would still be a great game. However, the creative minds got together again and decided to shake the series from its very foundations. The end result? Brand wars are over and one name stands above. Welcome to WWE '12


The large roster you're used to makes a return, with many first timers. With the WWE's push toward new superstars via NXT, there are many fresh faces new to in-game roster inclusion (some were DLC last year) including Husky Harris, David Otunga and Justin Gabriel. In all, 70 superstars representing all eras are available on the disc, including Demolition (the Ax and Smash edition) and former superstar Brock Lesnar, who worked out an agreement to appear on the disc as his current self.


There are so many different game enhancements I want to tell you about, but I know there are certain things that all wrestling gamers clamor over, so let me simply break it down to you blow by blow, because there's so much that THQ has done this year that it's worth digesting in small bites.



Improved Graphics and Mechanics: Graphics have never been this franchise's problem, yet THQ takes it upon themselves to proactively clean it up year in, year out. This year, they've created a brand new rendering system that takes graphic processing to the next level. Framerates are smoother, fighter rendering is less jagged, and some of the clipping issues of the past have been cleaned up. You'll notice right away that the ring ropes shake in tune with moves, and no longer are fighters sent to the middle of the ring during submissions, signature or finishing moves. You hit the move where you happen to be. Lastly, the cameras will no longer start flashing random, or obstructive views when moves cut away. Camera transition and angles are much more in tune with the way production is done on television, and the chosen cutaways look closer to what you'd see on TV rather than in a video game.



Improved Ground Level Customization: Many wrestling fans look to realms beyond just the squared circle. Some participate in online fantasy federations, some create their own storylines, and some like to spend hours discussing hypotheticals. WWE 12 takes what it did last year (The Neverending Universe mode,) and turns it on its head. New is the "Create an Arena" mode where you can customize your own ring, turnbuckles, aprons and chyrons. The possibilities are infinite here, as you can use WWE's chosen designs, or any blend of patterns to create whatever you want. Envisioned the creation of certain WCW arenas? Many WCW logos are included for your use, as are old WWF/WWE Pay Per View logos. Ever wanted to recreate a ring made solely of Jimmy Snuka's leopard print? Absolutely.


Create a Wrestler has also been changed significantly. New hometowns, new poses, new entrances and the ability to better customize entrance videos abound. No longer do you have to stick yourself on one wrestler's entrance video any longer. You can simply splice bits and pieces to create your own. As always, you have the option of your own entrance music through streaming on your Xbox without any problem. Even your ring announcement can be strung together from a series of nearly 600 pre-determined speech bytes. In all, there are 10 different creation tools, and over 80 match types to choose from. In true WWE franchise fashion, however, you will have to roll up your sleeves to unlock some of these, because there are still unlockables.


Bear in mind, I DID say this was only ground level customization. We've yet to discuss what the new WWE Universe mode has in store.



In-Game Improvements: Graphical rendering is not the only improvement made. Many gamers complained that the control scheme was getting too big for itself, and to almost WWF Attitude-esque proportions. THQ has scaled it down a bit, and changed the controls quite drastically. Those familiar with the franchise will see the controls to be a very similar hybrid to SvR 2009 and 2010. Buttons, rather than sticks dictate many of the controls, and a few more mechanic changes have altered the gameplay experience for the better. You are no longer able to run in endless circles, as you will be held to a run meter, which will wear down as you waste it. This will also kill your momentum if you are found to be too evasive and disengaged from the action. Thankfully, THQ has now made it harder to reverse moves. Rather than the endless chain sequences of the past, it is now possible to hit one of your grapple moves at long last. Returning as well is the ability to store finishers, something that surprisingly fell by the wayside for Smackdown vs. Raw 2011.


A new "limb targeting" system makes its way into the game. In the past, you could see damage done to wrestlers, and use that against them (increased chance of submission, for example,) but there wasn't anything that specifically targeted a limb for the purpose of match psychology. This year's edition features a specific system where you can target and attack a single limb through specialized attacks, thereby crippling your opponent's abilities. You can then build stories around your match, and attempt to render your opponent's specialties useless. Target Sheamus' leg to try to stifle his ability to hit the Brogue Kick, for example. For those seeking a more technical wrestling match (or one who gears his style toward submissions, for example,) this is the perfect addition.


As you near the end of the match, you will see a couple of new inclusions. First, the "Breaking Point" submission system, which is a bit of a takeoff to the older games. Here, you can see how close you are to submitting you opponent through a meter, which is an improvement of the vague red vertigo-inducing screens of the last few years. A new comeback system will re-energize weakened fighters to the point where they could regain momentum of the entire match, hit a finisher and win (a possible nod to Robert Gibson of the Rock and Roll Express) and the wakeup taunts entice weak opponents into a signature or finishing move. In perhaps the biggest gameplay flow achievements, players can now "queue" their signature or finisher to hit the moment an opponent is picked up. No more picking up a groggy opponent and THEN hitting the move after a second of hesitation. A seemingly small, yet welcome addition.


These are the major gameplay additions and enhancements outside of the big 2 modes. Let's now take a look at the improved Road to Wrestlemania and WWE Universe 2.0.



Road to Wrestlemania: Road to Wrestlemania has been completely revamped, and to be honest, this is where the gaming community will likely be the most divided. I hated the old Road to Wrestlemania modes, and the idea of playing 6 different timelines that all took place in the same period, but did not overlap and were unrelated (a perception of time explored on the October 13th episode of Community.) WWE 12 contains 3 Road to Wrestlemania roads - The Villain, the Hero and the Outsider. You begin the Villain mode, which you play from start to finish, overlapping into the Outsider mode, and then once that is complete, the Hero mode. You must play them in order, as they unlock as you complete the other. By the way, none of these modes involve you playing as John Cena. Let me rephrase that once more:



THERE IS NO JOHN CENA ROAD TO WRESTLEMANIA MODE


Presentation excels the most in this mode as well. The game attempts to close the gap between video game and the TV show by doing little things well, such as overlaying a loading screen with a "coming up next" preview done similar to upcoming matches on RAW (This feature is also part of Universe 2.0.) Unlike last year, there are no "exhibition" type matches either (previous Roads featured non-story building throwaway matches once in a while,) as everything builds story. Road to Wrestlemania Mode this year is sure to be the sleeper hit of the game, as, for many gamers, Universe is what draws the attention of gamers. Let's discuss the Universe next.



WWE Universe 2.0: Last year's introduction of WWE Universe was huge. Finally, gamers had the proverbial keys to the toy store, and could customize the entire WWE storyline universe they way they see fit. If you didn't like a wrestler on one show, you could switch him to the other, or write him off altogether. While this was a great start, there were a few complaints. Firstly, it was too hard to set up title shots. There was a fairly complex logarithm that only listened to certain rules, where only certain title contenders could get shots at certain times. This has been amended for you to set up shots whenever you want. Not only that, but if you're sick of WWE's sets, you can import your arenas and have your own Universe with whichever shows you feel like - WCW Nitro, Thunder, ECW - anything you can think of can be put into the Universe. You can even defend and issue your choice of 22 different title belts, and have the ability to interfere yourself in all AI matches where you could not before. Forget the keys to the toy store. THQ has given you keys to the entire mall in Universe 2.0.


Fighters now carry momentum meters, and their attributes rise and fall depending on the momentum (or lack thereof) they possess. This is not a new feature to sports games, as this has been in other franchises as far back as 1995. However, this will allow you to pull up the attributes of the Superstars you choose to have compete for your titles. Zack Ryder, for example, has recently taken his career from near-obscurity into the top 10 of popularity and merchandise sales. Ryder's fans unhappy with his in-game ratings can push him toward the top, and see huge increases to his attributes with severely increased momentum.


With dozens of huge changes made, and hundreds of little tweaks made, THQ's attempt to continue improving the WWE universe, and bringing the experience closer to an interactive program (rather than a video game) is sure to be nothing short of amazing. Gamers wary of the fact that this is a yearly franchise should come in with an open mind, as there are many twists, turns and surprised yet to be revealed, and that only you can experience. Be ready in understanding that this is going to be a different game than last year. This game aims to prove that THQ is constantly thinking forward, and I can say with certainty that the changes will not be for naught.


For gamers seeking the extra bragging rights of being "The" WWE gamer, THQ is taking pre-orders for a "People's Edition" with the Rock on the cover available only through their website, and in limited quantities. Otherwise, the game drops November 22nd for Region 1, November 24th in Australia (where it's sure to cost twice US retail since that's the way Australian gaming rolls), and the 25th everywhere else. With so much in store for gamers this November, THQ is sure to send the gaming holiday season into a frenzy. Check back here at XBox Addict for our review of the next installment of the WWE Universe.


Come discuss the franchise with us on our message boards, or on Twitter. You can find our site on Twitter @XboxAddicts, and I'm always around to chat @Paliontology. See you in the ring!