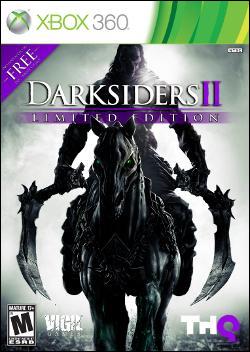 Darksiders 2
by Brent Roberts

March 22, 2012

Darksiders II hands on event preview

The sky opened up and amongst the piercing light from the heavens above ride the horsemen of the Apocalypse. Their sole purpose, to ensure the balance of power throughout the war is tipped in favor of God and the righteous, but the Devil himself has other plans. Recently XboxAddict has had the opportunity to get a sneak peak at the latest apocalyptic installment from THQ, Darksiders II. For those who enjoyed the first, let us break the sacred holy seals of power and discover a glimpse of the next horseman to be unleashed, Death. Wonder what mysteries lay ahead for us dear reader? It's time to sharpen your scythe and mount your horse because now is the time we ride into biblical destiny with Darksiders II.


For those who have let Darksiders slide under their radar, consider this your wake up call to get into the action. Darksiders II details the adventure of the one and only, Death who is on a quest to circumvent the lies about the other apocalyptic horseman War. The level we got to experience at this hand on event started us at a location called The Foundry, where we had to traverse multiple paths to acquire Heart Stones to awaken a mammoth stone creature named The Guardian. Throughout the adventure we got to experience a wealth of new innovations that set Darksiders II on a path of righteousness.


For starters some of the new innovations include gold and item loot drops which can yield: upgraded pieces of armor that can provide stat bonuses and other interesting secondary features, weapons that range from the amazing to the unholy and have characteristics that would make the Devil himself smile with glee, as well as talismans and other delightful goodies. This allows you to truly customize your character how you would like it and adds some amazing levels of character customization. Some of the other innovations include a massive improvement upon the gameplay itself. Death as you will come to know him is incredibly fast and agile and with this talent comes a slew of new maneuvering abilities such as beam/wall running, wall jumping, and a technique called mantle which allows Death to reach new areas via set points (usually located on a wall). This new maneuver is also enhanced by the addition of "Death's Grip" which could be looked at as a personalized grappling hook.


Some more amazing innovations with Death are the Life/Death splitter and the Void Walker. Ever wonder how some puzzles or massive combat situations could have worked out better if you had two of you? Well that is precisely what the Life/Death splitter does. Death himself will actually split into two entities at the same time so now the possibilities become even larger. Then there's the amazing tool the Void Walker. Think of this aspect as something from a game called portal. This portal tool allows Death to not only reach areas that were once unattainable, but it also allows you to use this in combat by granting you the option to send enemies through the portal into traps. When you combine all the new gameplay innovations with the wealth of customization options you have one undeniable truth, Death is an f'ing bad@$$.


Some of the smaller but still equally cool features we checked out were the animations for Death when he was interacting with a door or chest. Instead of the chest being opened up by your character, Death summons two spirit hands that render the chest open so all that is left is to collect the spoils. Seriously, this is Death we're talking about; he doesn't have to spend energy opening doors or chests himself. One small but very significant gameplay addition is the ability to have Death target a specific enemy amongst a group. This can prove to be lifesaving since it allows you to single out your opponents and doesn't make you feel overwhelmed or lost and trying to figure out who to attack. Since Death himself has been portrayed as the grim reaper in multiple mediums, in Darksiders II we got to check out Death's very own Reaper Form. This is an ability that you can spend your skill points to unlock as you level up and is a must have. Its effects start out small and showcase death transforming into his Reaper Form in the middle of a combo, however, the real beauty is when you level this power up. Upon spending enough points you can upgrade to ability called Reaper Transformation which is just what the name implies. Upon activation, Death transforms into a celestial grim reaper for a limited amount of time once the reaper meter is full and can literally obliterate almost anything instantly. Make no mistake; like we said before, Death is an f'ing bad@$$.


The level that we got to experience at this hand on showcase looked absolutely stunning. While this is one of many areas to explore, the general scenery and look of the level is far beyond superior to the original Darksiders. There was lush foliage blanketing some of the grounds, beautiful looking waterfalls and pools, dark menacing caves, lava streams, ancient structural buildings and more. Some of the puzzles were a bit complex at first to figure out however it added to the feeling of accomplishment when that light bulb clicks on and you figure out the solution. We were also treated to a massive NPC follower for this level who was more of a temporary assistance tool by throwing death to unreachable areas, holding massive iron doors open to new areas and more. The sounds of the game were hauntingly good and the voice overs were done on a top tier level. When you hear Death speak your ears are bombarded with an overwhelming sensation of superiority of a horseman of the Apocalypse who is doomed to be tormented forever.


As the book of Revelations says: "And when he had opened the fourth seal, I heard the voice of the fourth beast say, come and see. And I looked, and behold a pale horse: and his name that sat on him was Death, and Hell followed with him. And power was given unto them over the fourth part of the earth, to kill with sword, and with hunger, and with death, and with the beasts of the earth." When the sands of time run out and the seal is broken on June 26, you will get the opportunity to put yourself into one of the most feared and iconic characters throughout all of mankind. After all we got to experience on this adventure, Darksiders II is without question, a day one purchase and a game that must be on your buying radar. It's time to ride because judgment is coming and it is unavoidable.