Preview of FIFA Soccer 13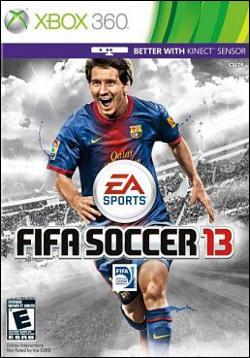 FIFA Soccer 13
by Matt Paligaru

September 1, 2012

On September 25th, EA will be releasing the latest edition of FIFA for your XBox 360. FIFA 13 looks to continue building momentum from its outstanding '12 title last year, and brings with it all of the new features and play types you could expect that you had not seen yet. XBox Addict had the chance to check out what hopes to be a perennial title in the annals of EA Sports' FIFA-dom.


Gone are the transparent NPCs you've become accustomed to, replaced with better motion detection and on-field interaction. Players jockey with each other in much more realistic fashion, and fight for the ball much as they would in a real game of soccer. The new physics engine means that you can no longer kick through your opponents while on defense, and your slide tackles will result in realistic fallout. Much like the NHL, and now Madden's physics engines, larger players can use their size to their advantage now, resulting in their opponents having to physically move around them instead of going into them and the game simply implying that it was a perfect offensive jaunt through the midfield.


The presentation has been cleaned up a bit as well. EA incorporates "Match Day" into its exhibition mode, to the point where the latter term has disappeared altogether. With a LIVE connection, this will treat your game the same way MLB 2K12 did - It will incorporate roster shuffles, injuries and suspensions in realtime. If Young-Pyo Lee has been suspended by MLS, for example, he will not appear roster ready for the Vancouver Whitecaps when you play in Match Day mode. Commentary will reflect many Game Day moments as well. Statistics will display on screen for the announcers to comment upon, and that will attempt to give your game a much more current feel, rather than drawing upon last season's stats and making comments based on those.


These changes take you into the career mode, where you are doing much more than playing for your chosen team. International eligibiility is included for the first time, and your team, and your players will feel the impact. With international friendlies and soccer seasons often running parallel, you can now be called up to represent your country while playing for your chosen team. EA, possibly sensing confusion in separation have smartly chosen to keep menus separate whilst running these campaigns concurrently. It's made things extremely easy to manage, and much like Madden's career mode, your player will be given season objectives to meet to help improve your skillset. Many similar options carry over here as well, such as the ability to retire and continue with a new player, however, within that retirement option, you get the option of moving into the front office, continuing your player's career from one stage to the next. Expect this career mode to be another 100+ hour-style time investment if you choose to carry it to its fullest.


Perhaps one of the most disparaging thing about playing online for novices is the skill differential between them and game experts, being unable to do moves that would make you scratch your head and wonder how it was possible. FIFA 13 incorporates skill tests and skill building mini-games into FIFA, an art that has been somewhat lost in many sports games. From kicking directly at targets to test the accuracy of your free kicks, to chip shots into garbage cans and lobs over hay bales, the admittedly menial job of improving at FIFA is made fun through the efforts of these new additions. Time will tell whether this, or the aformentioned physics engine will be the biggest contributor, but with skill games ranging from the very basic, to the very hardest of implementations, expect those who took the time to play them all to give you a much tougher challenge this year on the online pitch.


You will also notice out of the box that defenders aren't as static as before. One of the biggest problems plaguing FIFA's AI was that they would get set in what they were doing, performing almost on a track, or like a magnet toward the ball if they were close enough. FIFA 13 features smarter AI that will uses its elements and reacts better based on zone coverage and the ball carrier's actions rather than a basic set of defense not seen since pee wee hockey where every child just goes for the puck.


Lastly, those with Kinects will finally have a bit of assistance with options available for a peripheral that, up until this year has largely been an expensive paperweight for sports gamers. Mind your manners, because while being able to shout out commands to change your gameplay on the fly, the in-game referee will be "listening" to how you handle his stoppages. Swearing at stoppages could result in bookings, or a change to your reputation in-game. If you are pegged a whiner, it will change the storylines for your character drastically, but simultaneously open up new objectives or storylines.


500 teams make this year's edition the largest roster set ever. Even if you may never stray away from your comfort zone, it's still nice to know you can flip over to Middle Eastern leagues when in search of a new challenge.


A few details still remain shrouded in mystery, including kit definition for the new teams, the full list of venues and the full soundtrack. However, you can guarantee that as always, when FIFA 13 hits retail shelves on September 25th (Sorry Europe, while you have to wait until the 28th for retail copies, EA's Early Release program might help you get it sooner,) expect the same level of hard kicking, grass grinding action you've become accustomed to, with a few new twists.