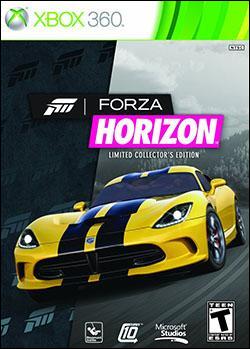 Forza Horizon
by Khari Taylor

October 15, 2012

Much like a wild race horse, Forza Horizon has been bucking and chomping at the bit, ready to burst out of the starting gate in less than two weeks' time, and you can bet that every member of Microsoft's Turn 10 Studios involved with the racer's development is more than ready to let her rip. But as is protocol, even upstart newcomers have to run a qualifying lap, so Turn 10 has been politely making the rounds with Horizon all over North America, allowing us all to see what's new under the hood. One of its latest stops was right here in Toronto, Ontario at Airstrip 37. Accompanied by three smoking hot sports cars and the game's design director, Turn 10's John Knowles, the final version of Forza Horizon made its GTA debut, and I eagerly took the first 20 minutes of the game for a spin.



Unlike Forza 4, where all the action takes place on the racing circuit (i.e. the race track), Forza Horizon's playgrounds are the (fictionalized) open roads of Colorado, with the heart of the game's story focusing around a music and car culture festival dubbed the Horizon Festival. Naturally, the main goal of the game is to become the next Horizon Festival Champion, and it is via the main Festival Site (or hub, if you will) that players will progress their solo career, registering in races and challenges that in turn will reward them with credits (necessary for buying new rides), popularity points (which will score invites to showcase events) and wristbands (which will allow access to increasingly advanced challenges). Popularity points can also be scored outside of events by doing just about anything "cool", such as drifting, performing near misses with road traffic, catching air, busting through picket fences, etc., which means players are constantly rewarded for doing fun things they would normally be doing anyway in an open-world driving game, and these actions can even be strung together into combos that will net even more popularity points. If this sounds a bit like the Kudos system from Project Gotham Racing or the Aggression Meter from Burnout Revenge, then it should come as no surprise as Turn 10's Horizon development team, Playground Games, consists of former members of the UK's upper crust of racing game development, including the companies behind those franchises: Bizzare Creations and Criterion Games.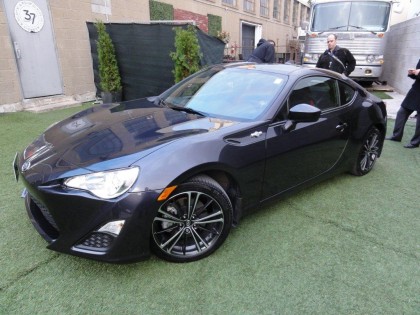 And much like how Criterion Games' Burnout Paradise offered a living, breathing menu in the form of Paradise City that players could seamlessly drive around in and explore on their way to their next challenge, Turn 10 and Playground Games have smartly done the same with the Horizon Festival, a lively, 24/7 party playground in the Colorado desert encircling the outdoor concert venue. To access Horizon's main gameplay branches (Race Central, Garage, Autoshow, Paintshop, Marketplace and Car Club), one simply drives up to their tent and presses the X button to interact. However, even when the player leaves the festival site to burn rubber on the open roads, the theme of the music festival continues to permeate the experience via the three festival radio stations available to any car the player drives: Festival Bass Arena, Festival Pulse and Festival Rocks. All the music in the game has been curated by Rob Da Bank, a famous BBC1 DJ and music festival organizer, lending a feel of authenticity to the experience. Of course, players who like their racing a little less clubby can always turn it off, reducing the musical experience to a more ambient one when they drive within the festival's proximity.

As with any Forza game, Horizon offers plenty for players to do. Race Central is where players will access the majority of their challenges, such as circuit races, point-to-point races, Showcase challenges and more, but additional race opportunities await on the open road. Some are in the form of actual events where just like Race Central you can drive up to and register, and other unscripted events make themselves regularly available in the form of rivals. Rivals are other racers in the festival like yourself that you can challenge by riding up behind and pressing X, which will instantly start a random race between you and the other racer to an arbitrary point where the winner will be awarded cash. Online, players will be able to establish rivalries with their friends or other members of the online community, allowing them to make it a little more personal, and speed trap cameras littered all over the countryside will constantly compare friends' speeds to one another as they pass them in their respective game worlds, encouraging the rubbing of it in one's face back and forth. Players can trick out their rides with upgrades at the Garage (though there are no tuning options), add some flair via the Paintshop (liveries and designs from Forza 4 can even be imported or purchased), join or form a club at the Car Club tent, and buy new cars at the Autoshow. Naturally, the Marketplace tent is where players can use real-life money to buy and/or download DLC, including Season Pass content.

For my 20-minute demo with the game, only a standard wireless controller option was made available, so unfortunately I can't speak for Forza Horizon's driving experience with a racing wheel. That said, as a Forza player who usually drives with most of the assists on, the controls and car physics in Horizon feel very familiar. In perhaps not a totally original yet enjoyable twist, the opening of the game dropped me right into a high-octane race against the reigning champion of the Horizon Festival, Darius Flynt, and behind the wheel of a car that by rights I should not be driving so early in the game, but the experience gave me a brief opportunity to re-familiarize myself with Forza's default physics philosophy...forgiving enough to let me enjoy the high-speed thrills without causing me to spin out at every curve, but strict enough to remind reckless drivers like myself that one must brake before entering a turn, and not while accelerating. What was immediately different however was the inclusion of road traffic through which Flynt and I were dangerously weaving in and out of in our game of highway cat-and-mouse, which brought back many a Burnout Revenge flashback, not to mention a few from the Fast and Furious movies (the good ones). Then just as I felt I was finally gaining on Flynt, the game's camera unceremoniously pulled me out of the race and dumped me into the persona of some nameless, silent, dark-haired white-boy avatar on the side of the road watching Flynt and the "awesome-racer-that-used-to-be-me" speed by, driving home the point that THIS was who I really was, and that "dream race" was potentially in my future, but there would be a lot of hard races standing in-between. Stereotypical hero aside, I was immediately hooked.

What followed was a series of trials as I made my way to the Horizon Festival and began to earn myself both street cred and credits necessary for advancement in the tournament. I eventually upgraded my old beater Toyota for a 1999 Mitsubishi Lancer after winning a few qualifying heats, then won a 1970 Mustang Boss 429 by winning a race against a Mustang fighter plane (an early example of some of the more unusual Showcase Challenges you'll have the opportunity to take on in the game). Like most muscle cars I've driven in past Forza games, the Mustang was far more difficult to take turns in and drifting was far more haphazard, but the suffering was worth it just to hear the throaty roar of its engine while hurtling down the open road for a few minutes.

And the open road is truly what is most appealing to me about Horizon...it's essentially Forza 4 with the fences literally removed, with the entirety of a fictional Colorado as your test track. While other games such as Need for Speed: Hot Pursuit/Most Wanted and Test Drive Unlimited 2 have offered open-world or pseudo-open world experiences before, none have them have achieved it with the visual and gameplay fidelity that Turn 10 and Playground games have achieved here, all while keeping Forza's impressive physics and driving model intact (the "Forza DNA" as Knowles puts it). When I think about finally unlocking one of my favorite Lamborghini rides, the 2009 Reventón Roadster (confirmed as one of the available cars) and taking at full tilt down a highway that I can actually catch serious air on, my fingers begin to tremble with excitement. Add to that the ability to do the exact same thing at night (thanks to Horizon's impeccable 24-hour day-night cycle), I begin to salivate.

On that note, it should never be forgotten that the cars are the true stars of a Forza game, and much like Forza 4 did, Horizon will offer rides-a-plenty. While Knowles was reluctant to confirm just how many, it's been rumored that the game itself has no less than sixty, and more will be made available as DLC every month, including a massive expansion promised for December which will not only feature more cars, but likely even more gorgeous Colorado to mess around in. The cars themselves sport the same exacting level of detail as those in Forza 4, right down to the working headlights and adjustable foils, and each and every car comes complete with fully-modeled interior cabin views for those who like the most cramped but authentic view of the road possible.

Of course, no Forza game has ever been perfect, and while the franchise has always continued to strive for that goal (and has largely succeeded despite the quickly accelerating age of the Xbox 360 hardware), moving from the safer confines of the racetrack to the open world has taken some immediate casualties that are obvious even from first glance. Forza 4's gorgeous 60fps in-gameplay framerate has taken a small hit, replaced with a lesser fluidity that is still locked far above the industry's standard of 30fps and never dips, but from the perspective of a Forza 3 & 4 veteran it still takes getting used to. Car damage is only cosmetic in Horizon, which means that players will be able to bully and car-cushion their way to the front of the pack without fear of not being able to finish a race, but less inhibitions should also lead to more exploration and experimentation on (and off) Colorado's wild and unruly roads, so it's kind of a wash. That said, the first time the rear of my Lancer drifted into oncoming traffic and the collision caused my rear window to shatter, sending chunks of reinforced glass scattering onto the road, I still instinctively cringed as if a large repair bill would be awaiting me at my destination.

The final casualty that I was able to glean, not from my gameplay experience but rather from its absence, was the lack of a split-screen mode; multiplayer in Horizon is online only. This will definitely disappoint players who became accustomed to the option in Forza 3 & 4, which were never guaranteed during the development of those games but in the end made the cut thanks to Turn 10's ingenuity and eagerness to please the fans. "In order to support that we would have had to do a lot more degradation to the environment and the graphics that we were comfortable (in) doing, because we want to give people the most beautiful open world that they can possibly get," Knowles explained when asked why it was missing. "There's so much to do online, there's so much to do with rivals and with friends that players can have fun playing by themselves or with friends (online)." Considering just how gorgeous Horizon looks, Knowles' explanation is more than justified, but it's still regrettable for those players whose favorite and/or only way to race with friends is by sitting next to them on the couch.

As of this writing there are already several early reviews of Forza Horizon posted, the majority of which are highly positive, but we here at Xbox Addict will have to reserve our official judgment of the game until we've received and thoroughly played our own review copy. Until then, this writer will have to make do with the demo currently available on Xbox Live and hope that the final product indeed lives up to the "Forza-meets-open-world" promise that Turn 10 and Playground games are clearly capable of.