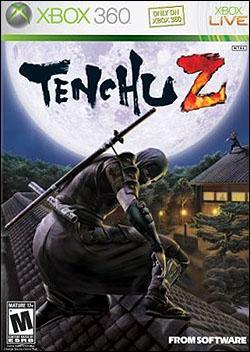 Tenchu Z
by Stephen Cameron

May 4, 2007
The long running Tenchu series is coming the Xbox 360 and is bringing a host of improvements and enhancements to the established formula along with 4 player multiplayer over Xbox Live, Rather than focusing on the all out action combat side of the ninja life, Tenchu is all about being stealthy and working your way through various missions, usually with the end goal of assassinating a poor unsuspecting soul or stealing some loot. There is still plenty of ninja killing and sword swinging, but patience and strategy with use of the stealth kill system is rewarded over a run and gun style of hand to hand combat. As you work your way through over 50 missions set in ancient Japan, you level up your ninja mastery with new moves and new weapons as you use your keen sense of sight sound and smell to survive. All of this is nice in theory but how does the game actually play?

Your first mission tasks you with assassinate some greedy arms dealer. (Apparently they had muskets back in Ancient Japan). You start off outside the walls of a small village, and have to work your way past unsuspecting guards to reach your target. You can choose to take several different paths to reach your goal. Do you grapple hook up the wall, and hop roof top to rooftop? Do you sneak along the ground, hiding in bushes and under shacks as you go? Or do you just charge in and poke everybody in the face with your sword? (not recommended, Ninja Gaiden this is not). All along the way there are many enemies mulling about waiting to be finished off, with the ideal way being via the "stealth kill". A stealth kill occurs when you sneak up on an enemy undetected, after which you are given the option of pressing X to finish the opponent off. Depending on where you are in relation to the enemy, a variety of moves can be performed. Unfortunately it's a context sensitive thing, so while the kill can be gory and satisfying, you never get the sense of doing much except pressing X. Still, the stealth kills are what holds the game together, as you can do such things as the classic "sword through the throat", or the ever popular "rip his arms from their sockets followed by a sword to the throat". Overall stealth kills are fun to perform and a comical amount of stylized blood accompanies each enemy death. Be careful not to get any blood on you though, as it increases how bad you spell making you more detectable. A simple jump in the pond or putting on some sort of ancient after-shave solves this problem though.

While being stealthy is encouraged, the game falls apart a bit when an enemy detects you. It is almost as if the poor sword to sword combat engine is your punishment for being detected. Your main options when this happens are to run and hide or fight them off by repeatedly pressing X. Sure there is a bit more to the combat, such as jumping around and blocking, but effectively it becomes a battle of the X button. To make things more frustrating, you have to stab the guy six or seven times before he finally dies. The combat is not "horrible" per say, but using stealth and the stealth kill system is infinitely more rewarding that being detected and fighting face to face.

Speaking of face to face battles, in this early preview build the AI in the game does not seem very bright. This may be part of the gameplay design though, and is what makes the stealth mechanic work. The guards go about their business walking their set patterns, waiting to be either killed or to detect you. Once a guard detects you he will even yell out and call in re-enforcements ninjas to kick your ass. Don't worry though you can just run away and hide under a shack, or in a bush, and after a minute or so the guard forgets he ever saw you and goes back to work. How and when they detect you sometimes seems random as well. For instance, you could be right beside a guard and he'll do nothing, yet a guy 20 feet away sees you and freaks out. Players with patience and who use a deliberate stealth style will love this mechanic, but twitch gamers and those who lack patience may get frustrated easily.

As for graphics, they get the job done but are by no means up to the level of what the 360 is capable of. There is a definite stylized visual going on though, and the graphics do put you into the mood of being in ancient feudal Japan. And if you like blood, as mentioned before, there is a copious amount of it to accompany each stealth kill. It may not be realistic looking but it fits with the game. The character models look decent as well, and there are a host of options you can unlock for your ninja hero as you play through the various missions. Every thing from face types, hair, alternate outfits, and clothing accessories are available for purchase. These options help add a bit of a personal touch to your death dealing super ninja. All of these items can be purchased from a store in between missions using gold earned in game.

After each mission you are awarded a Mission rating. The better you score, the more in game gold you'll earn to spend at the Ninja store. Certain moves, such as Stealth kills and special moves earn you more money. On the flip side, if you go around killing innocents (bad ninja, bad) or being detected, your score decreases. This mission rating system gives players a good reason to play Tenchu the way it's intended to be played, as well as giving the player a goal outside of completing the mission to strive for. Play like a Tenchu ninja and you will reap the benefits. If you go face to face with multiple enemies at once and go around killing innocents, chances are you won't finish the mission anyhow and will mostly likely end up dead. Dead Ninjas don't get to keep the gold they earn; they only get the option of restarting the mission from scratch. This sometimes leads to a bit of trial and error gameplay as you learn each mission by having to screw up to figure out the best way to approach it.

Right now this game looks to be just what fans of the Tenchu series have been waiting for. It might also appeal to those looking for a challenging yet deliberate romp that will require some patience in order to reap the rewards. It's definitely something stealth fans may want to keep an eye on. Action gamers though, may want to take a pass. Your ninja is in another castle.