Preview of Medal of Honor: Airborne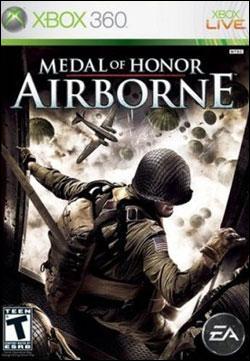 Medal of Honor: Airborne
by Stephen Cameron

June 6, 2007
Tired of your typical WWII first person shooters? Well, we are, rather we were. We wanted to see something different, first person shooters are pretty much the same mix and match since Quake 2 on the PC, not to mention consoles. When Electronic Arts asked XboxAddict to go see this title, we honestly had our doubts. They pitched it to us as, "This is the only WWII shooter that you can perform airdrops from a plane!" At first, we asked ourselves, "Will this actually make a REAL difference?" "How can dropping out of a plane help my gameplay any?" "Come on!?!?" "Will my gaming experience actually be that much better?" Well, folks…it will! Let us explain.

After doing quite a few airdrops it became extremely clear of the endless possibilities. Think about it, you suddenly have the ability to start anywhere in that map, on a roof top and start sniping bad guys, or right on the street, or if you have enough balls, right into the hornet's nest! The tactical advantages are enormous. The maps/worlds we play tested were called Operation Husky, and Operation Avalanche, and folks these are simply a wonderful taste of things to come. I'm not just giving you the public relations fluff here. I truly believe that EA has a winner on their hands here.

Thus far, most WWII shooters like the Call Duty series, or heck, even the previous installments of Medal of Honor, the fact that you've always been lead along these preset scripted pathways, made those games very predictable. For example, a guy jumps out…you shoot him and all his friends cap you like old yeller. ..darn, I died…I start over, the same group of thugs come back right on cue, they jump out…. Anyways, you get the picture. This "pre-scripted" game type in any first person shooter was getting very old, fast.

In Medal of Honor: Airborne, you play the brave role of Boyd Travers, Private First Class of the 82nd Airborne Division, the basic concept is to have you and your fellow paratroopers complete various objectives in any order you want, remember you can drop anywhere in the game's six various levels.

All the weapons in the game are upgradable at least three times, for example… The Thompson, the first upgrade is a Forward Pistol Grip, then the next is a Cutts Compensator, this suppresses upward lift on the gun, and finally a monster 50-Round Drum.
From what we saw in the graphics department, things are right up there with Gears of War, the game is still a few months away, but things can only get better from here.

The soundtrack in this game was a real treat, ok, it had the same feel and vibe of Band of Brothers and Saving Private Ryan, really brings you into the moment.

Let's face it at the end of the day it's still a WWII shooter with unique parachuting abilities, which should add a whole new twist to this tired genre.

So, on August 28th, 2007…save your pennies for this one folks. It will be well worth it. Medal of Honor: Airborne should live up to what we saw and played. This anticipation of breaking the mold in the first person WW2 genre will leave you breathless, I promise.

Also, be sure to check out our friends over at Xbox365.com's hands-on preview.