Preview of Sacred 2: Fallen Angel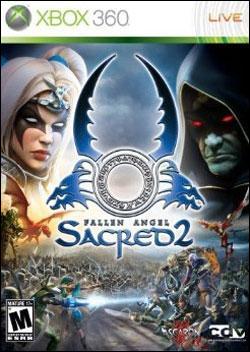 Sacred 2: Fallen Angel
by Rick Wallace

February 24, 2009

This is part 2 of our 5 part series detailing regions you will come across while playing the upcoming game, Sacred 2. Today we look at the Dryads region. Be sure to check back each day for a new region detailed including 6 screenshots of that region.

Dryads Region

The Mediterranean-like Jade-See laps along the southern beaches of the Elven lands and touches the deserts and jungles to the east. It's a very calm body of water, hosting few storms of violent magnitude. In days long past, it served a bountiful harvest of fish and other sea life for the ravenous appetites of the then-growing ancient Elven Empire. As those appetites grew, so too did the population of sea life decline accordingly. However, in the time long since past, the bounty of this sea is on the rise, despite hosting the occasional fishing foray from Elven lands (piloted and crewed by Humans and other non-Elven races baden to do this labor).

Within the center of the Jade-See is a subtropical island called Dyr-Lain long ago by the Elves that settled here in ancient times. With the fall of the Elves, the island returned to its wild nature, untouched for many years. When the Seraphim 'honored' the ancient Elven Empire with control over T-Energy, not all Elves were convinced this was a bountiful gift; indeed, many thought it to be the key to their lands' destruction.

Fighting such fears became a useless endeavor, as those opposed to Elven involvement were a minority. Even so, it was difficult to hide their views from the mainstream Elvish society, and they faced persecution wherever they turned. T-Energy proved to be a very valuable commodity, making those that wield it much more powerful than those that do not. Those voices of reason within the Elvish lands began to dissipate like beads of water on a hot plate of inquests and arrests. Those that remained looked to relocate their lives or face annihilation.








With that, many thousands of Elves took to ancient boats and fled to Dyr-Lain just as the Elven Empire began to crumble from within due to the greed and power T-Energy brought upon them. Thousands of years ago when those boats first touched the beaches of the island, those Elves resolved to no longer be Elves, and to establish a more just and naturalistic society that lived in harmony with its environment, rather than seek to dominate or control it.

Today, those Elves were the ancestors of a people now known as Dryads. Their forefathers' fears have been founded as Ancaria slides further and further towards destruction; Elven lands have become less of a haven for peace and more of a battleground between the nobility and clergy over T-Energy control. Such conflict indirectly spills over and affects other lands, causing much of the general malaise over the last many years. Many Dryads wash their hands of it, considering their break thousands of years ago to be the end of their involvement in the affairs of those elsewhere. They jealously guard their freedom, and for good reason: not only for the protection of their families, but also because of the unique nature of their island.

Dyr-Lain is a paradise unlike any other. While mostly subtropical in nature with its fair share of greenery and jungle depths, the heat is never oppressive; the mild climate is perfect for thriving fruits and animals of many kids. The Dryads' naturalistic nature makes them very respectful of their environment; while they live off of the land through gathering and hunting, they never take more than they need, lest they upset that critical balance.









Even more so, Dryads consider Dyr-Lain to be their personal reserve, and take care of it accordingly. The forests are well-cared for, the rivers and waterfalls remain sparkling and pure, and the wildlife healthy and bountiful. This balance has served them well for all these centuries and, if left up to them, it will remain so for many, many more.

Their love of nature has also fostered an affinity for natural-based magic involving the elements of their world; many Dryads are taught from birth the skills and secrets of potions and herbs. Their spells are likewise influenced by the natural world, and make them formidable foes. Few Dryads seek the outside world, and those that do are more curiosity-seekers than crusaders for any cause.