Preview of UFC Undisputed 2009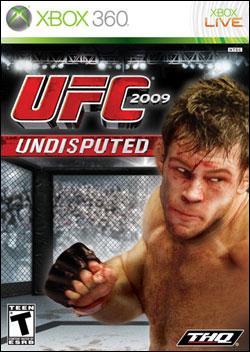 UFC Undisputed 2009
by Stephen Cameron

April 20, 2009

While reading this preview, a person can't help but to ask themelves, "What does UFC stand for, if you're a gamer?". Personally, I have "horror gaming stories" about previous UFC games, you can thank Crave Entertainement for those. On the Dreamcast, PS2 and Xbox with the Tapout series, the game were, well...they sucked. The controls were confusing and cumbersome, and lots of model clipping.

Those titles lacked basic gameplay, and made them very specialized, and made them repulsing. Most gamers are not UFC specialists, so the technical aspect it made for hard for the casual gamer to jump in and play the games. Unfortunately, most UFC hardcore fans didn't like the games either. The UFC brand hadn't been well represented, until now.
THQ is now the publisher and both the sport, and the game has matured significantly. Now THQ has picked up the franchise, and Yuke's Co. Ltd is the developer.

For those you that are totally disconnected, UFC stands for Ultimate Fighting Championship, back in the beginning of this sport is was "no holds barred" sport. It quickly led to accusations of being "human cock fighting". In recent years the sport has matured to being well respected by setting in a some strict set of rules. Like, no hair pulling, no throat strikes, no groin attacks just to name a few. Although, eye gouging would be piles of fun, three stooges style, I don't think the game mechanics allow that. They are keeping true to the sport in every way possible.

The game is announced as a realistic mixed martial arts simulator by its developers, and publisher. With over 80 fighters featuring all the five weight classes, and six different fighting styles. Including Boxing, Brazilian Jiu-Jitsu, Judo, Kickboxing, Muay Thai and Wrestling.

The game also includes a "create-a-fighter" system, which I personally didn't get to try. What we did get to try was a demo with Chuck Liddell and Mauricio "Shogun" Rua, and I must admit the games looks incredible, it's too bad old Chuck didn't look that good on the evening of UFC 97. Sorry Chuck. Maybe he will prompt THQ to make a Legends of UFC-Mania. Also, we were told that there was no model clipping. What does this mean? It's when you punch the other character, your fist doesn't go thru the actual 3D character itself. The calculations for that are mind numbing, but makes for a cool game.

While in combat, the screen by default doesn't have much information displayed on it, which I found quite strange. I like my fighting games with a health or stamina bar at least. These options are selectable via the game menu, so don't be alarmed if you don't see it when you get the game or the demo. But, equally, not having the status bars added to the suspense of when you or your opponent was getting close to being knocked out on their ass.

The combat variety in UFC Undisputed 2009 is quite impressive. It is broken up into a few phases, a couple being the upright and ground positions with a multitude of moves within each phase. As in past UFC titles, the grab and holding techniques, and mastering them, will be the key in winning matches online.

UFC Undisputed 2009 is more accessable than previous incarnations of the franchise title. Fans of the sport will truly enjoy the game, Why? All the fighters are clearly present, and nothing beat kicking someone's ass. Keep your eyes open for UFC Undisputed 2009 in stores, coming out May 19th, 2009.

In the meantime you'll be able to download the demo on Xbox Live Marketplace on April 23 2009.