Preview of Batman: Arkham Asylum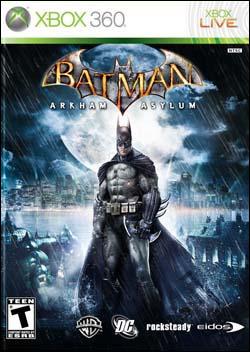 Batman: Arkham Asylum
by Brent Roberts

August 16, 2009

For many years gamers have had a very strong bond between video games and comics. One of the icons that many gamers love to see come to their favorite consoles is none other than the caped crusader Batman. This game takes place in the dark, dismal world of the Arkham Asylum where inmates are subjected to experiments or "treatments" provided by the doctors. This is where Batman takes his worst of the worst so be prepared for the most exciting Batman adventure yet!

One of the most important things to gamers is the gameplay so when Rocksteady Studios got a hold of this project they wanted to make this Batman title very simplistic to just pick up and play. You have your regular attacks which you can chain together into combos and in some instances trigger a mini cinematic cut scene that showcases in great detail the Dark Knight delivering the punishment like we all know he does. On top of your normal attacks you also have a "bat cape" attack which will help stun and keep mobs of enemies at bay. If used correctly this stun attack can help batman setup for some amazing combos on multiple enemies at a time. Incase you find yourself surrounded and enemies attacking you constantly, the developers at Rocksteady Studios have managed to give the players a way to bring the true essence of Batman to life. In Batman Arkham Asylum gamers have the ability to counter an incoming attack from a foe. This not only sets Batman up to unleash some mammoth combos, but it will also save your life in heated fights w/ multiple enemies.

What Batman game would be complete w/o the use of Batman's technology? In Batman Arkham Asylum gamers get to utilize the "tools of the trade" that define what we all love about Batman. First off is the detective mode. In this mode gamers will gain the ability to see items that Batman can interact with in order to gain the upper hand in a fight, or provide Batman a quick escape; as well as provide Batman with information on his enemies such as heart rate, location and weapons. Weapons and gadgets are a key element that makes Batman who he is and some of the items you have at your disposal are Batman's infamous grapple gun and the legendary Batarang. The control is so smooth and easy to use that you will find yourself wielding the Batarang like a pro and flying through the rafters w/ ease.

Sound and music are key elements that every game strives to bring to its gamers, but very few deliver. In Batman Arkham Asylum, our favorite clown prince of crime, The Joker, is voiced by none other than Mark Hamill himself! Mark Hamill is known in the Batman community to being the "unofficial-official" voice for The Joker and has brought the twisted mind and demented jokes to life for years in both television and movies. Mr. Hamill has announced that this will be his FINAL time doing The Joker voice so gamers should expect an amazing farewell performance from one of the most iconic voices in Batman. Rocksteady Studios also managed to land a lot of the original voice actors from the award winning Batman: The Animated Series, from enemies like Harley Quinn to Batman himself. Another aspect that makes this game so complete is the soundtrack. Batman fans know that dark, dreary chords and slow haunting melodies help bring Batman to life and this game does not disappoint. From the game's opening cut scene we are treated to a haunting soundtrack that perfectly showcases Batman's demeanor: dark, menacing, absolute.

Graphically Batman Arkham Asylum is stunning. The floating camera does take some getting used to, but within a few min. of gameplay the gamer will become very comfortable w/ the camera and soon it will feel very second nature to gamers. Batman Arkham Asylum brings gamers deep into the asylum and from the beginning we see where some of the polish comes into play. The detailing of the asylum looks amazing and the texture from the tiles on the floor to the grime stained walls of the insane, the Unreal 3 engine brings to life every dark and dirty detail of the Asylum. It seems that Rocksteady Studios has decided to put this attention to detail in every single character model in Batman Arkham Asylum.

Batman Arkham Asylum combines amazing gameplay, Unreal 3 graphics, and disturbing sounds to create THE best Batman experience on any console. Based on the amazing attention to detail that Rocksteady Studios applied when the game originally got delayed, this game is def. going be a must have in any collection. Amazing fluid gameplay mixed with excellent graphics and character modeling plus the addition of a haunting soundtrack will ultimately make this game stand out for years to come. We have seen many batman games come across multiple consoles throughout the years, however, gamers should rejoice because their favorite winged dark knight is back and this time many gamers agree, the people at Rocksteady Studios got Batman "right". I tip my hat to Rocksteady Studios for bringing an iconic comic hero to life and allowing me to finally become one of my favorite comic characters.. Batman.