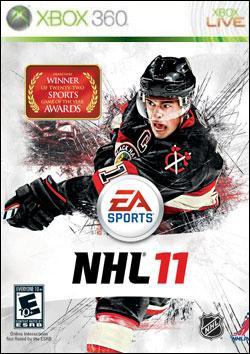 NHL 11
by Matt Paligaru

August 26, 2010

Electronic Arts has spent the last 20 years building the definitive hockey gaming franchise. Spanning 5 generations of gaming consoles, long term supporters have seen it through its ups and downs. Few may remember the oddly digitized face of Ron Barr providing pre-game insight in the early years, what a rush it was that penalty shots were finally included (NHL 94,) the years that the push for family-orienting gaming resulted in the loss of fighting (NHL '94 and '95,) the introduction of creating players for the purpose of immortalizing yourself next to the NHL's greats (NHL '95) and so much more. With so many highs, there have been so many lows to counteract: The awkward "signature moves" phase of the mid-90s, the year they spent more time filming John Davidson than developing a real next-gen hockey game (NHL '97,) and everything associated with NHL 2003, which was an awkward period where the franchise bottomed out while trying to retain its foothold in the hockey market against 2K Sports. But ever since Jarome Iginla adorned the cover that fateful year, EA Sports has pumped out one well done hockey game after another, and entering its third decade, the trend should continue with NHL '11.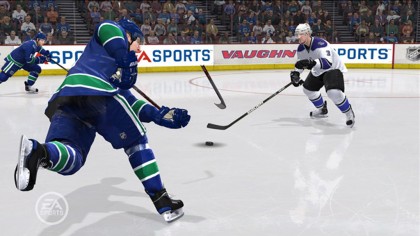 Boasting over 200 gameplay improvements, the demo went live to eager players on August 17th (August 18th in Europe.) Focused around this year's cover choice Jonathan Toews, the intro video shows him deking and shooting a puck over the shoulder of Anaheim starting goaltender Jonas Hiller, before the game name splashes on screen and takes you to play the last 5 minutes of the Stanley Cup finals, or to start the new EA Sports Ultimate Hockey League mode.


The first thing you'll notice when the game begins is how smooth the game playing sprites look on-screen. If nothing else, the last few EA hockey games have always had smooth on-ice presentation, and this year is no exception. Movements look natural, with fully detailed rendering of each action and ensuing reaction. No corners were cut in the making of the rest of the on-ice product either. Chicago's United Center is brought to life in living color and sound. The rattling noises of the boards change depending on where you hit someone, players show better natural fatigue when tired (as opposed to just slowing down) and in a welcome change, bodychecking has finally entered the 21st century of gaming. The consequence of a bodycheck now depends on how, when and where you hit your opponent, as opposed to the time in which you hit the button resulting in a pre-determined animation sequence like all the years before. Nothing was worse than going in for an attempted hip check, only to see the game pre-select a freight train of a check, resulting in a boarding penalty.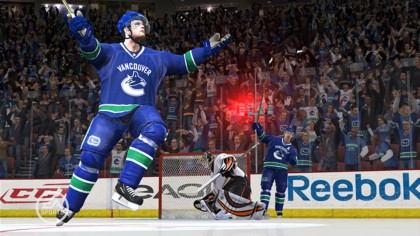 Calling the action again are Bill Clement and Gary Thorne, who continue to break down the game you play as it happens. It's hard to imagine a game that could be any more interactive, but adding to the realism in gameplay improvements this year are sticks that break at the most inopportune times (which should raise the ire of Vancouver Canuck fans,) the ability to face-wash and start fights after the whistle, and a hustle system designed to add excitement to puck races. Used to kicking your goals in during a scramble? NHL 11 features goal reviews and disallowed goals for all those cherry-picking moments. For those of you who get a bit too excited when the puck crosses the line, goal celebrations are now available for you to take your dancing out of your living room and into the game.


Franchise modes have been a recent staple of the NHL product, and NHL 11 attempts to take that to the next level with its Ultimate Team mode. With an endless customization option to build your team with more than 4,000 players and player upgrades taken from all leagues, you can build your dream team and take them offline and online in tournaments to win new packs of cards and upgrades to create a team so potent that it makes an All Star Team look like last year's Edmonton Oilers in comparison. Think of this mode as kind of like Eastwood Starter Kit, with the ability to actually play the games instead of simming them. Hockey card collectors will notice that many of the NHLers in the Ultimate Team mode are depicted by way of this year's 2010-11 Victory set. There's a slight irony that EA is showcasing its highest end customizable franchise mode in conjunction with Upper Deck's lowest end card set, but if it works, it works right? It's just mere symantics in the end. Those are the new gameplay options the demo showed off. Let's close by talking about some of the last little details shown off.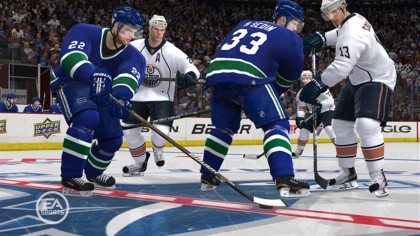 There have been some roster updates leading into the demo. Viktor Stalberg and John Scott appear on the Chicago Blackhawks, denoting the rosters did at least accommodate for the first day of free agency. Simon Gagne still appears on the Philadelphia Flyers, however, meaning the cutoff date is somewhere between July 1st (when Scott signed) and July 19th (when Gagne was traded.) For the first time in nearly 15 years, you can strike up the Brass Bonanza because the Carolina Hurricanes can now play in Hartford Whalers alternate unis since the logo and rights have now been licensed once again for NHL Products. Sadly, other Hartford favorites like Cooperalls and Dave Babych's moustache aren't included.




NHL 11 in its entirety hits shelves September 7th. Check back here at XBox Addict for our in-depth review to see where it stacks up and whether it will be worth your while to purchase the game, or to slide the money toward the NHL Center Ice Pack this season.