Preview of Forza Motorsport 5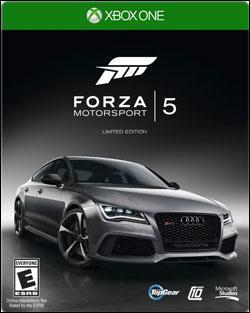 Forza Motorsport 5
by Brent Roberts

June 27, 2013

Getting behind the wheel of a car that costs over $1 million dollars is a common dream shared amongst all petrol heads at one point or another in their lives. Throughout the years Turn 10 has come as close as any company ever had to letting us turn the key, and start those engines. Now coming to Xbox One, Turn 10 has managed to produce another automotive masterpiece with their latest game, Forza 5. Throughout the week XboxAddict had a chance to meet several wonderful people from Turn 10 and get some very fortunate hands on time with this sensational game. We got to experience Forza 5 with both a full racing seat and steering wheel and an Xbox One controller and as we're about to tell you, both ways produced the same breath taking results. Get ready to be humbled Mr. Stig, Mr. Clarkson, Mr. May, and Mr. Hammond because in the virtual world, we gamers have the advantage. As quoted from a Dr. Clarkson: "Powerrrrrrrrrrrrrrrrrrrrr!"


As our tires spin off the line for this preview we must tell you the sheer beauty of Forza 5. While graphically impressive with each addition to the series, this version goes way beyond anything we were expecting. No longer will cars have a false beauty about them, instead the closer you get to the car the more detailed the shape, paint, and materials become. This will showcase bends of light more realistically through the paint and now provide gamers a more realistic perspective on their favorite cars. One of my personal favorite pastimes was of course the paint shop. It was through here that I got to know some very talented and amazing artists and was fortunate enough to collaborate with some of them. It's through the paint shop where artistic vision and creativity come to life. Its one thing to win a race in a stock paint Bentley Continental GT, but it's another thing to win a race with a photo realistic Jabba the Hutt on the bonnet and speeder bikes flying through Endor's forest on the sides.


This creativity has had some backlash in the previous years, but now Turn 10 has assured us that measures are in place already to prevent your hard work from becoming spammed across the community due to a not so respectable person. Even more, XboxAddict has learned that there will also be an increase in the available layers to paint with, so if you found yourself going blind with 1000 layers to work with, get ready to become Mr. Magoo with even more. All of this ties into the aesthetic beauty of Forza 5 and when you sprinkle on top a stunning racetrack and beautiful environments, you have the makings of a dominating automotive racing game.


Other features such as the Driveatar allow you to play Forza 5 and earn credits while not even playing the game. Going out of town and missing your big race? Not a problem anymore because your Driveatar can race for you and perform based off of how you drive. You are the one that teaches your Driveatar and it will simulate your actions based off your tendencies. If you're the type of racer who prefers to try to do a pit maneuver to pass on a corner, then you are teaching your Driveatar to do the same. If you find yourself being put out of control but manage to maintain your car, your Driveatar will learn that as well. Think of this as your own personal automotive instruction manual that you will be giving constant updates to. Another new twist to the already lengthy race schedule is the inclusion of Rival Mode. What this mode does is put you through legendary iconic rival moments in history to reshape or reclaim the present.


Take Lamborghini for instance. Originally the makers of tractors and farm equipment, Ferruccio Lamborghini became a business success throughout Italy. He became so wealthy that he ended up purchasing expensive cars, including a Ferrari. He thought that his 250GT was an incredibly rough ride but he also discovered that when his clutch broke that Ferrari were using the same clutch as Ferruccio Lamborghini used on his tractors. With that, he asked Ferrari for a better clutch, (which to them was like questioning the word of God) and in response, Ferrari said he just makes tractors and knows nothing about the development of sports cars. Ferruccio Lamborghini was so upset that he did what any other obscenely wealthy person would do when taking a slap like this to the face, he started making cars. Thus the rivalry we know today was born. It's moments like these that have shaped the car industry into what it is today, so apparently sometimes great things can start from an argument.


Now onto the most critical part of any racing game, the controls. It is here that races will be won or lost and it's here that we taste the sweetness of taunting those in our rear view mirror or the agony of having our motoring egos demolished. Originally we tried a setup with a racing seat and full steering wheel and what we got was a sense of immense responsiveness and control. We weren't expecting this level of quality when it came to playing Forza 5 with a steering wheel that we ended up turning to sharply and bailing out on a lot of corners early on. After a few short minutes on the track however, it became almost like second nature. We were taking turns like a pro and the feedback into the wheel was remarkable which allowed us to push things harder and faster as we became more comfortable with the control scheme. After our race we checked out the new Xbox One controller and how it feels to play Forza 5 with it. One of the biggest surprises was the rumble throughout the controller based off your acceleration, braking, and cornering. Now with, what felt like, pressure sensitive rumble, our cars came to life off the line like we never imagined they could. Controlling these million dollar beasts is no easy feat but thanks to the Xbox One's contoured outer edge of the control sticks, our thumbs felt glued to them which eliminated the fear of slipping off when the racing got intense. This also posed an issue though and that is when you hold your Xbox One controller, your thumbs will always be in a very specific place. What this means is that your controller will seem to wear down in a very specific place on the sticks, and then what? It's this issue that provides both a solution but also creates its own very specific issue and when grip is essential in a racing game, losing it is never an option.


Overall we have to say that Forza 5 is beyond impressive. Every detail both major and minute has been completely overhauled to bring racing fans around the world the best driving experience. Packing not just brilliant new graphics and the same amazing physics that we have come to expect, but including new modes that already give more content to the gamers on day one and new innovations such as with the recently announced Open Wheel addition, Turn 10 has once again proven that the new benchmark in automotive racing games is without question, Forza 5. Like they say, it's where dreams are driven.