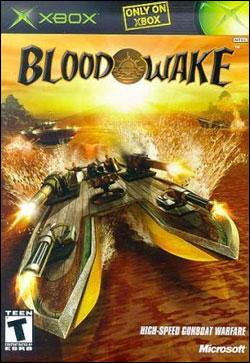 Blood Wake
by Stephen Cameron

November 2, 2001

Being developed by Stormfront Studios, Blood Wake is a mission-based action title that plays like Twisted Metal games except there aren't any 4-wheel vehicles on the road, it's all combating with boats afloat water. Sound's pretty fun, maybe navy marines that operate battle ships will take a liking to this boat-blasting bonanza.



The plot is a powerful driving force apart from all the missiles and bullets. You're a nomadic raider in a rebel faction known as Shadow Clan. Among the Shadow Clan, other factions such as the Iryian and the Iron Empire swim these hostile waters. Whatever the Iriyan lack in supplies, they make up for in their immense numbers of hired mercenaries. The Iron Empire is a fleet with the most dangerous weapons and equipment seen. These three clans are enemies, all power hungry and engaged in a power struggle over the waters. As a young Naval lieutenant in the Shadow Clan, you have to overcome all fear and rise above the ranks to prove your worth by leading the charge against the Iriyan clan and then challenging the more formidable Iron Emprie. But something happens along the way, you are betrayed by your own clan and must now acquire the help of an outlaw band of sea-raiders to seek out justice and restore peace to the waters.



The game includes a single player and multi-player mode, which supports up to four in a 4-way split screen. In the single player mode, you'll make your way across 25 missions of shooting engines including river deltas, island groups, sheltered, deep canyons, and the open ocean. Each mission will look and play different than the last because Stormfront will fit as many creative scenarios as it can. By implementing changes in time of day and weather conditions, Stormfront can pit players in night raids and early morning attacks, adding variety.



According to VP and Director of Product Development, Dan Bunnet, "night raids, stealthy reconnaissance forays, attacking and defending ports and bases, escorting and capturing convoys, and all out naval battles. You can expect a ton of excitement, a terrific challenge, and a whole lot of fun. Our art team had to learn quite a bit about principles of naval architecture before we could finalize boat designs! Because of the way all objects interact with the fluid sim, your boat will react exactly as it should when it crosses the dynamically generated wake of another player's boat. This leads to a lot of crazy fun, and many boats will actually catch air if you hit a wave peak at speed." We'll also witness awe-inspiring water physics. For example, the reflection of the sun will bounce of the waves thanks to bump mapping. If you leave your boat in control of the water, it will just sit atop the water and rock up and down in the waves. But once you rev it up and start throttling the engine, you'll witness your boat bounce off of high waves and leave a nice looking water trail. That's how real the water looks!



And there will be 10 different boats to get you through these missions that range from small and fast boats to enormous and heavily armed but slow boats. Such boats include Patrol boats, PT boats, Catamarans, Devil Boats, Pocket Battleships, Capitol Ships, Sampans, Battle Junks, Freighters, Speeders, Medium Speeders, and Cruisers. Each boat will be equipped with many combinations of weapons at its arsenal, one main weapon and a secondary weapon alongside that can be accessed at the push of a button on the controller's face. Weapons include machine guns, chain guns, cannons, rockets, and mines that you can strategically use to sink the opposing boat. Torpedoes will even home in on an enemy boat. And don't worry if this sounds too much to handle all at once because Blood Wake takes an easy learning curve with its automatic targeting system. Plus, there are a variety of ammo types such as impact ammo, flame rounds, explosive ammo, armor piercing ammo, and consussive rounds. I can't imagine what it will be like once I put the pedal to the metal… or in this case, the fish to the water?



In the multi-player mode, you can bring your friends and introduce them to the split-screen action. The current plan is for player-on-player matches and player-versus-bot matches over 10 different Arenas. Online functionality is at lack and more information on the multi-player mode is unknown. Look out for Blood Wake at Xbox' launch, it's one game that'll truly define graphical capabilities of the Xbox. I mean, you can actually see water ripple and splash and fire coming out of artillery and oh my God, every single detail you could ask for is there.