Preview of Circus Maximus: Chariot Wars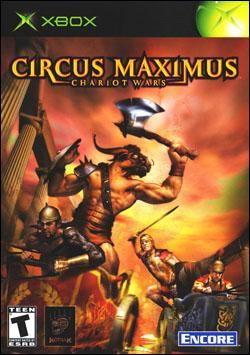 Circus Maximus: Chariot Wars
by Stephen Cameron

February 4, 2002
Take a ride to the past, on one of the most gruesome and famous type of travel for combat from the Roman Empire. If you don't have a clue, it's war chariots! This form of a ride has 3 parts to it, you've got real horse power with horses taking you around, the driver who swiftly guides you through the track, and of course the infamous warrior who will take it to the other chariots to assure you the win. Do you have the skills to take on many other chariots in battle?

This game is a unique combo of combat and racing mixed together. Its developed by Kodiak Interactive and they have brought several different modes to the game. The graphics are stunning with details of every aspect from what I have seen. The four basic modes consist of circus, academy, tournament and empire. Circus is your arcade style of racing that you can get to very easily. The multiplayer mode is empire mode where you and your friends duke it out and have some fun. You have many different combinations and up to four players on the split screen.

If your not into having all four player against each other as individuals, you can team up with teams being in pairs. One person being the driver and the other combating the others as a warrior. Academy is for those inexperienced, to train and learn how to become better with control and how everything is done. For all those wondering if the game is going to have a career style of play, tournament is the career mode you're looking for then. Its basically thrown you at the bottom of the ranks and having you work your way up against other competitors to earn cash so that you being a slave can buy your way out of work and become free. "Hall of Heroes" is the glory looking players since the top high scores will be added in here after every game. Many environments will have you wanting more. Seven main environments to battle through as either a warrior or the driver.

Your goal is to come in first in the game, but you should also seek to take out other chariots as you pass them or as they pass you. You can fight the computer's warrior to take out their defense, or you can try to take out their speed by whacking on their horses and you also can take out their driver to have them crash. If your in need of getting your strength back or if your way behind, power-ups will be scattered all over on the tracks to help you to the way to victory. You can only have one power-up to hold while racing, so your decision will affect the rest of the race. Either defense, speed or attack, which one you pick can decide an outcome.

Obstacles will be thrown at you left and right. Falling trees, collapsed chariots, even your own chariots that are getting beaten on will slow you down. Driving skills are must at this point since you will have to overcome a lot to pass the opponents. Your in luck if you aren't a good driver, you will be able to toggle back in forth between drivers and warriors. If you aren't good at either, then sorry you can't be the horses. The computer will fill in at either role that's opposite of what you choose. Now if you are getting bored of the warriors and drivers you have, you can always switch right before the race. You can choose from different warriors, horses, drivers and chariots for your style of play. Graphics are very clean and detailed. The animations need a little more dirt and blood added to it since its looks very well too clean and should be a little more detailed before its release. It has a little more time with about 2 weeks to do the final touches. What's good about the animations is that dents, bruises and cuts will be shown up for the horses and chariots so far. The frame rates look to have taken advantage of the Xbox quality and so far it looks solid as for gameplay.

On screen while playing, you will see representation of your chariots health, lap info, your number of laps, place on the track layout, your place in standings during the race and how much time you have spent racing. Power-ups will be included and so will what position you are controlling, either driver or warrior. Other various bars will be included to help you through many of the menus and when your playing. Controls seem to be mapped well. Left analog stick is to steer your chariot, and also by pushing the left analog, you can taunt, and pulling it back will cause the warrior to attack further attacks. The D-pad is to switch between the driver and warrior. By pressing down on the D-pad you can see behind you. The two triggers will help you make turns when pressed by themselves. If you are going to fast to make a turn, then you need to press both to slow your horses down as if it was a brake. The Right analog will help your warrior lean and by pressing it, you can whip your horses to build up more speed around the corners. The game takes advantage of all the buttons on the controller and they are mapped a little like this. X to block, B for a basic attack, Y for your double maneuvers, A to accelerate your horses, Black button for high attacks, and white to have you use your power-up attacks. It seems to take a little time to get used to but in time it will be more easier than you think. So far, Circus Maximus is shaping up to be a distinctive entry in the Xbox lineup and will definitely offer gamers something different. It will be released on February 15th and this is on my list for a must have.