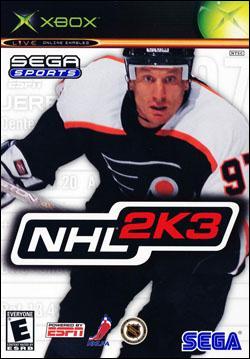 NHL 2K3
by Stephen Cameron

November 14, 2002

Here in the Great White North, also known as Canada, winter is already upon us and the wonderful sport of hockey! Just to give you a little background on my hockey knowledge, I married a woman that if you suddenly decided to have a
crazy "death wish" and at the yearly family reunion, and you yelled out... "The Montreal Canadians SUCK". You'd find yourself waking up a ditch somewhere not remembering how and why you got there in the first place. Anyways, NHL 2K3 is the only hockey Xbox title that will support online play with Xbox Live and quite possibly XbConnect! (via System Link)




EA Sports NHL 2003, take a seat! Because, so far, NHL 2K3 shows the most promise of all the other hockey titles available on the Xbox to date. Online play, play-by-play commentaries, realistic plays, real penalties, and real 2002/03 season roster and much more. How more REAL do you want? This hockey title will be the most complete and "real-to-life" hockey title available to date, there is a god! When you live in Canada, you can run but you can't hide from hockey (and beer!), and Sega's NHL 2K3 has so far thought of almost everything to simulate the uniqueness of the hockey atmosphere, with killer ESPN commentaries.




As far as game-play goes, NHL 2K3 offers a huge variety of unique moves…including hooking players while they "try" to make a break-away, pinning players up against the boards. Salivating yet? The franchise mode is deep folks, you should be able to download (courtesy of Xbox Live) updated rosters. Mmmmm, NHL 2K3….

The only little thing that I found that might need some work on this beta build was the hockey player animations, there just weren't smooth enough. But, when NHL2K3 comes out on November 19th, 2002, be at the store at 3am and buy it, remember IT WILL BE Xbox Live compatible! Write this one down as a must get! GET IT!

Click "Product Profile" to check out the 35 Exclusive screenshots!