Preview of Freestyle MetalX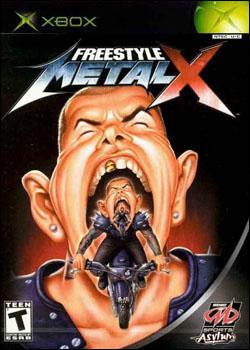 Freestyle MetalX
by Stephen Cameron

April 30, 2003
Take Tony Hawks Pro Skater 4 and put a dirt bike in it and you have Freestyle Metal X from Midway Games. Yep you heard it here, this game is going to be a major hit with all you jumping, back flipping and grinding fanatics out there. Along with your standard ability to do trick, a lot of additional innovations have been added to make this game stand out above any other action sport game out there. First off, there is no limit to where or what you can do your tricks on, from skyscrapers and swimming pools to buses and flaming tunnels. There is a nearly unlimited stunt system allowing you to combo any number of moves from one to the next and the ability to string them all together for a massive score, mini games which unlock as you gain popularity and money in career mode, and a total of 8 modes of game play. One of the greatest features of the game is that in the huge totally immersive world, availability of that world only happens as you unlock each area, giving you more freedom and more space to do what ever you want, whenever you want. Again I can't stress enough how large the levels are. They remind me of the popular pc game Motocross Madness 2. In career mode you have to gain popularity and money by doing insane stunts without crashing.



Freestyle Metal X allows you to feel the realism as you travel through large open ended environments, and experience the realism as pieces of windows go flying by your head, while you run over some screaming people with your bike. With an unlimited stunt system and a lawless energy, Freestyle Metal X allows riders to push the envelope with psychotic tricks in limitless, freestyle environments full of challenges and side events. "We have created something unique with Freestyle Metal X by focusing on the attitude and lack of restrictions surrounding the popular sport of freestyle motocross," said Helene Sheeler, vice president of marketing, Midway. "Gamers can be anti-establishment as they break windows, ride where they normally can't ride, and get away with it, in an entirely free-roaming game environment."



Several Pro-riders make appearances in the game, such as: Clifford "The Flyin' Hawaiian", Adoptonte, Jeff Tilton, Nate "Destroyer" Adams, Jeremy "Twitch" Stenberg, Trevor Vines, "Mad" Mike Jones, Kris "The Rock" Rourke, Kenny Bartram and Ronnie "Kung Fu" Faisst. And those are just a handful of the 16 available riders. The game also comes complete with a level editor and your choice of motocross gear and unique bike models to outfit your riders, all this with heavy metal music to boot, including Motley Crue, Megadeath, Motorhead and Twisted Sister. Riding it hard, fast and anywhere, Freestyle Metal X is a totally unique offering that caters to the action sport and mass-market gamer with diverse, lawless freestyle motocross mayhem. Gamers and motocross fanatics can "be sick all over" as they experience first hand the extreme thrills and spills of the first freestyle motocross videogame. There is no doubt in my mind this will be the biggest hit of any freestyle motocross game to ever hit any console period. In closing I can tell you that anyone that likes action sports and likes to play games like ProSkater will want too pick this game up! It's guaranteed that you will be up all-night and wondering where the time went.