Preview of NHL Rivals 2004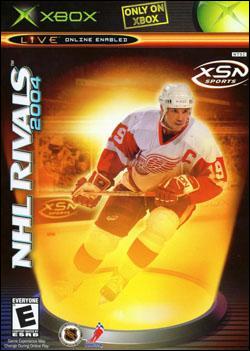 NHL Rivals 2004
by Stephen Cameron

October 7, 2003
I love XSN. The Xbox Sports Network has everything going for it: an ingenious idea, great design and perfect integration with Xbox Live and the web. Well, I am not being totally honest by saying it has everything going for it as it is missing one key component at this point, and that is great games to back it up. Now by this point I realized I have managed to piss off a bunch of people who are probably yelling (or typing) something along the lines of "WTF? Fever is awesome! IT OWNZ JOO!" I am not saying Fever is a bad game, but as far as a great football sim (note the word SIM) it is definitely not up to par with either Madden or ESPN at this point. Also we need to face the fact that the people who are really interested in tournaments, stat tracking and scouting other teams are not usually people who are up for more 'arcade' style sports.



So due to the fact that I am enamored with XSN I really had high hopes for Microsoft's new NHL Rivals 2004 game. Unfortunately it falls into the same category as Microsoft's NFL Fever 2004 game: it's a good game, but it doesn't offer anything that puts it on par with either ESPN or NHL 2004 from EA. Microsoft just managed to put out another mediocre game that happens to support XSN. Of course as you are reading this you must keep in mind that this is a preview of a BETA copy so MS does have some time to clean this title up and give it a little bit of polish, but with the release date quickly approaching I fear they aren't going to have enough time to fix everything that needs improvement.



From the screenshots that MS has released I was really hoping to see some mind-blowing graphics. Well to summarize what I saw I can say that the graphics are good and bad at the same time. There is absolutely no problem with the actual graphics of the game. The character models are well detailed, the rinks look great and if I am not mistaken this is the first hockey game that actually has a fully rendered 3D crowd instead of a few rows of 3D people and a bunch of moving cardboard cut-outs. Of course this was one of the first games I have ever played that made this point so blatantly clear: great graphics doesn't mean the game is graphically pleasing. Why am I saying this? Simple; the actual presentation is completely lackluster. The game introduction is totally sub standard and boring, replays are terrible and the popup stats are incredibly bland. When compared to a well polished title such as EA's NHL series this game looks like crap.



Unfortunately this is one of the biggest setbacks of the game. It is much easier to gloat over an awesome goal when you have a great replay highlighting it while you trash talk. Rivals replays on the other hand are very jerky and never have the wonderful camera angles you will see in the other hockey games out this season. Also it is my opinion that a cool game introduction is just the thing you need to get yourself pumped to play against a friend or on live. Rivals shows only a short bit of your skaters wandering aimlessly on the ice before setting up for the initial puck drop. This is all backed up by some very boring commentary which makes for a totally uninspired pre-game ritual.



Of course graphics aren't everything with a game as was shown to us by Sega's NHL 2K3 title last year. Even though the graphics weren't much to shout at, the amazing gameplay really gave it an edge over EA's NHL 2003 and was a ton of fun to play online. The bad news is that Rivals is definitely not made by Sega and you can tell. Again, this is not saying that the gameplay is bad, but it is not exemplary. Rivals does add some interesting features that really work well, such as puck face offs. Normally you just had to time hitting the A button to scoop the puck back to your team. Rivals adds a little more depth to that by giving you a couple of options. You can not only try to win the puck, but you can also attempt to tie up the defenders stick, or if you are feeling really lucky you can attempt to block him and kick the puck thus giving you an advantage over the other team right off the bat.

Also the passing system really works out well since you can either use the A button as in most other games or you have the option to finesse your passes with the aid of the right analog stick. How this works is you press a direction with your analog stick and your player will pass the puck there. This gives you the ability to pass without losing momentum due to turning to face the player you wish to pass to. You can also perform great give and go's and execute picks with ease. Unfortunately using the analog stick means it is incredibly easy to over shoot a pass and dump a puck to the other team on accident. This feature takes a lot of practice and fine-tuning if you plan on using it effectively.



Also MS tried to make the fighting system a little more entertaining by making it a little more than the normal 'jab the button' as fast as you can. but from a company that put Kakuto Chojin on the market, how much can you really expect? Not a whole lot. You actually have an impressive button setup with the ability to jab, hook, uppercut, grab their shirt and punch them in the face a lot, block and duck. Having a fight with a friend can be kind of amusing due to the fact you will actually be fighting. Of course a lot of this amusement comes from the fact that they look like clowns fighting. Say goodbye to the days of all out brawls on the ice and say hello to something that looks more like Larry and Moe in hockey helmets. Does this add a little depth? Definitely. Is it entertaining? Yes, but not for the reasons it should be. Could it have been improved? Absolutely.



None of the reasons I have mentioned thus far could really be labeled as total gameplay-killers. I've saved that reason for last. Rivals gameplay just seems off. If you have played NHL 2K3 or the new ESPN hockey then you know what a fluid hockey game feels like. It performs just like actual hockey would and is really easy to get into. Rivals on the other hand tends to feel a little clunky, choppy and unresponsive most of the time. Considering the great passing system this was really surprising, but there were just too many times that I ended up yelling things like 'I told you to shoot, dammit!' and 'What the hell? Since when does a side check stop my forward momentum?!' Once again though, this game IS BETA and hopefully these problems will be addressed. Along with the occasional glitch in the AI that results in your teammates refusing to advance on the ice, I suppose maybe they are just being whiney and don't want to play anymore, but that crap is frustrating.



So is Rivals a total bomb? Well, technically no. It is a pretty good game that is enjoyable to play. Of course with all of the great games coming out this winter for the Xbox I am imagining not a whole lot of people are planning on buying more than one hockey game to play. With that in mind, EA and Sega's entries this year are definitely outperforming Microsoft's debut Hockey game and will probably garnish most of the attention and sales. Right now the only thing Rivals has going for it over the competition is the XSN capabilities. just like NFL Fever before it. This whole déjà vu thing sucks as many of us had high hopes for a break-away hit with Rivals. I suppose we'll have to wait and hope for Top Spin or Links to fill our XSN dreams, but until then I will probably be playing ESPN hockey.