Preview of SpongeBob SquarePants: Battle for Bikini Bottom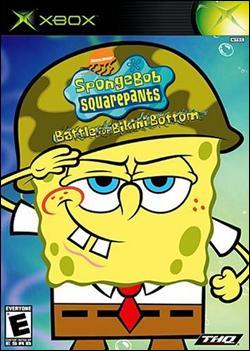 SpongeBob SquarePants: Battle for Bikini Bottom
by Stephen Cameron

October 22, 2003
If you take a happy-go-lucky sponge, a starfish who happens to be his best friend, a squid as a next door neighbor, and a town called Bikini bottom, what do you get? The hit show Spongebob Squarepants, a cartoon on Nickelodeon that was first aired in 1999 and has only grown in popularity since. This may sound absurd, but the wacky adventures of Spongebob Squarepants, the doltish actions of Patrick the starfish, and the egotistical personality of his neighbor Squidward has taken a place in all the fans hearts. Merchandise was made available for fans, and even now, Spongebob Squarepants: Battle for Bikini Bottom has made it's appearance for the X-Box.



After playing the game for a while, with much glee, I found this game to mirror the show incredibly well. They even include such things as Rock Bottom, Spongebob's Dream, and the most memorable of characters. Even though this wasn't a must, it was a great benefit to the game and really made it feel as if I were in the show itself, causing me to become more and more entranced with the game as the days went by (in Bikini Bottom, you never know what to expect!). In this game, Bikini bottom's existence was threatened by Plankton's robots. The only problem was, the robots failed to acknowledge their master's commands! Now it's up to Spongebob and the gang to go out and save the day.
This adventure game, not only was addictive, but it was really fun to watch my favorite characters on a cartoon show go around and kick some butt.



To level up in the game, you'll have to go through many different tests, including racing, whacking robots with bubbles, and lasso roping on floating Texas medals (these are just a few examples of the craziness in this game!). If you've ever played Crash Bandicoot, you'll know what I'm talking about. Some really nifty abilities that the characters exhibited were: Spongebob's rocket bubbles, Sandy's Lasso, and Patrick's picking-stuff-up-ability. As you work your way through the game, each of these abilities helps you make a way to get a golden spatula.



Being a diehard fan of the show, this game seemed too good to be true. As I played on and on, I found that there were a few things that did frustrate me. It got very redundant after a while, having to race down sand mountain in not only three different hills, but about twenty times for each to master the hill became rather cumbersome. Though it was nice to beat the level, and a bit exciting, it wasn't worth the hour I spent on it. Another thing that irked me was the lack of instruction. I had no idea where to go sometimes, and I would spend minutes upon minutes pondering on where to go and what to do next.



Every game has it's flaws, however. It was very enjoyable to play, except when I was frustrated with the time it took to get to some places. But again, please remember it's still a preview build and should be ready to go in a few months with full force.