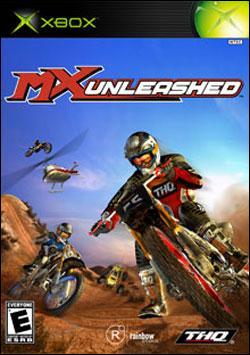 MX Unleashed
by Stephen Cameron

January 17, 2004
Now that the holiday season is over, the Supercross one is all over ESPN2 like a much needed high speed trip down memory lane.




Thus, I introduce Rainbow Studios. Back in 1998 these guys released their first off-road based title called "Motocross Madness", in its hay-day this was the most realistic motocross title around. Motocross riders, artists, kids, mothers, fathers….everyone played this game! I'd be willing to bet you know someone that has played this game at one time or another or one of their other best-selling titles.


But, for a little while Rainbow seemed to have given up on the motocross genre and PC market by going with four wheels and console only. That left a few people a little upset, but they ended up developing one of the best-selling (now a Sony "Greatest Hits") quad racing titles ever for the PS2. And its sequel is now bundled with the next-gen Sony machine, so that should give you a pretty good idea on what these guys are able to produce. Sheer genius.


For a while there, things started looking like the masters of the genre were not going to develop another motocross title anytime soon, but then THQ came to the rescue! They joined forces, got married, and then fell in love, but then the next logical step came, a child…MX UNLEASHED. What a beautiful baby it is my friends!


When I loaded up this beta build into my Xbox, I said to myself. "I wonder how far they've come with the motocross genre since Motocross Madness 2 ?"


I have a general statement to make…Almost everything that Motocross Madness 2 wanted to be, has been implemented into MXU. This title is MCM2's wet dream. The MXU physics are scary good, and bone crunching real. Those of you that played any of the Motocross Madness series or ATV Off-Road Fury series will feel right at home here. It's got that Rainbow Studios feel plastered all over it. Thus, do not be fooled, this title is NOT Motocross Madness 2 or ATV in any way, shape or form, and I'll explain how later on.


If you came here from the MCM2 Central web site, don't be lookin' for a PC version here. Unfortunately, this puppy will only make an appearance on the Xbox and PS2 gaming consoles this time around. But, Rainbow has answered your prayers and delivered the next logical evolution in motocross with hay bails that are NOT made of stone, a clutching system that works, completely re-designed and realistic bike a rider physic engine, and a super smart and fast AI. Guys, trust me it's all there.


Now, if you came from XBA, and you've never tried a motocross racing title, you might want to give this one a try. This is one very sweet racing game my fellow addicts. How do you think ATV Off-Road Fury for the PS2 became a "Greatest Hit"? It's not because thousands of people came out of the closet to discover they were ATV lovers. No, it's because it was piles of fun and it appeals to a wide range of gamers. This title will be no different.


From this preview build, MX Unleashed has managed to give us that near-perfect motocross racing title, yet maintaining that fun arcade feel. No one wants a sim, to then have to "Clutch, brake, downshift, release clutch, then gas it!". That would suck in a game, and it would be too hard to pull off anyways. They've kept that simple.


There are also quite a few pleasant surprises under the hood of MXU, the most notable one is the "Machine Races", this is where you race "larger-than-u" machines like a monster truck, plane, dune buggy thru the world in order to unlock them, then you get to drive them around yourself afterwards! This is like having five games in one. I won't spoil the other un-lockable items, there's many more.


For the hardcore Xbox lovers (like us) THQ/Rainbow Studios has not forgotten about us. The game does support 480p and 720p high definition resolutions and widescreen formats for a beautiful crisp racing experience. AND, Dolby digital 5.1 surround sound in order to hear those other motocross racers coming up behind you! The Xbox version does also support custom sound tracks, so if you want to listen to Motley Crue while you're racing, you can.


Take it from me, if you love racing or crashing. Pick this title up when it is released in February of 2004, I highly recommend it at this point in time.