Preview of Tenchu: Return from Darkness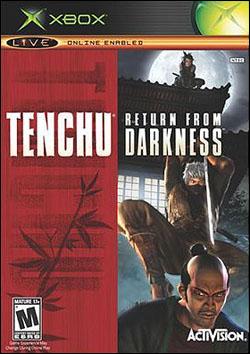 Tenchu: Return from Darkness
by Stephen Cameron

February 26, 2004
The moon hangs low in the sky. I hear the movement of my enemies below. As I sit on the edge of the roof. With a few quick moments my foe will lay dead as I drag him into the darkness. Oh wait, this is just a game, but I can really catch myself getting into the stealth of a ninja as he hides and sneaks behind to remove the life from his victims. Tenchu: Return From Darkness will not disappoint fans of the series. This game featuring tons of really cool moves, items to use while sneaking about, enemies with their own unique AI and beautiful eye candy, will be a must have for those wanting to be stealth assassins. Follow me through the great world of Tenchu: Return From Darkness.


Being a dedicated anime fan, I am always into trying out new games that have anything to do with ninjas. I remember playing the original on the Playstation from what seems like ages ago. Now Xbox Addicts will be able to enjoy the fun of the original with so much more in this game. You have two different characters to play as in this game. Now unlike most other games that allow you to play as multiple characters, Tenchu has a different story to follow with each character. This to me is well over the top in game design. After beating the game once, you will be able to enjoy more stealth action fun as another character in a whole new story. Each character has their own weapons that they are fully trained in assassination. The battle engine has had some major improvements from the previous Tenchu games. There was a lot of rants about this when the mention of a port for the game was to come to the Xbox. This is one thing gamers will not have to worry about. Now since the game is a stealth assassination game, when you find yourself seen by an enemy, it is best to run and hide. You may be a master of killing, but this is an art trained in stealth, which is your best bet for ridding yourself of the evil guards. Besides, who wouldn't love sneaking behind your enemy and doing a special assassination move to kill them in one strike. Well if players don't want to take this path they can go full force at their enemies, but will have a battle on their hands. If seen the guards are quick to alarm other allies near by and instead of fighting just one guard, you now face two or three. You won't be killing these enemies with one hit if they know you are there, trust me.

For being a new game for the Tenchu franchise, a lot of the aspects of the game are the same. Players will find their trusty grappling hook to reach those high roof tops. You will also have the familiar shurikens, smoke bombs, ground spikes, bows and arrows, rice and of course the poisoned rice. With all these at your arsenal, it makes killing the enemies from the darkness just that much more sweet.

Some of the new improvements to this game will be a big point in the sales for this game. This time around Tenchu has a multiplayer mode! This game comes to players with xbox live support, giving players an extra six levels to play outside the 11 from the single player. You will also have the opportunity to fight head to head with another player. Characters can be chosen from the twenty unlockable characters in the game. Now this isn't your standard deathmatch. While you may be expecting to still have to be stealthy while hunting for the other player, you will still have to hide from several AI guards roaming about the level. I felt this was a great addition to the game and makes a unique type of game to play against my friends. Unfortunately it is only two player, but this isn't really that bad. Can you imagine have to watch out for AI guards, and sixteen other human controlled assassins? Along with the versus fighting, gamers will be able to play cooperatively through some missions. Those guards better have a good life insurance policy, because it's bad enough having one trained assassin after you, but now they will have to deal with two. With this feature in the game, there is voice chat capabilities which will help lots when making your way through the missions with another player. You can also expect some smack talk during the versus mode as well.

Players will also be able to have a variety of endings depending on their performance in each mission. You will be ranked on your missions by how many times you were sighted, the number of stealth kills and a few other things. So keep to the shadows and get those stealth assassinations numbers adding up. This adds a little replay value for those that must see all there is to be seen in the game.

Multiplayer isn't the only improvements to the game. The polygon's in the game have been raised greatly. This gives the characters in the game a much better look in movement as well as the environment you will be sneaking through. The world you find your characters moving through is a great use of the graphics processor in the Xbox. Major improvements have been made from the original look of the games. With dynamic lighting in several forms, veterans to the series will notice the beautifully done characters.

Tenchu has a lot to offer I feel. As I stated before I had played the original before, but didn't get as involved with it as I have in Tenchu Return From Darkness. Now there are a lot of people eagerly awaiting Ninja Gaiden. This game I fear won't be much competition for the upcoming Ninja Gaiden, but I suggest players not overlook this game. Tenchu will be another game I will be greatly waiting to add to my collection.