NEWS - Tuesday, March 2, 2010

Stand alone 250GB HDD for XBOX!!?? Maybe not :(
GameStop lists, pulls listing for $130 expanded storage unit for
Microsoft's console; Microsoft mum.
Not long after announcing the 250GB limited-edition Xbox 360
bundle for Call of Duty: Modern Warfare 2, Microsoft went on
record to say that it had "no plans" to release as a standalone
quarter-terabyte hard drive. Plans, of course, can change.
Gamers may not need to pick up a special bundle to get the
250GB drive after all.
According to a product listing in specialty retailer GameStop's
online database, Microsoft intends to roll out a standalone 250GB
hard drive for the Xbox 360 on March 23 for $129.99.
(GameSpot obtained a screen capture of the listing before it was
removed.)
The price comes in at $30 more than the currently available
60GB Live Pack, which includes a hard drive, headset, 3-month
Xbox Live Gold subscription, and Ethernet cable. Microsoft also
currently offers a 120GB standalone drive for $149.99.
The 250GB has thus far been available as part of limited-edition
$400 hardware-software bundles. Beyond the Modern Warfare 2
package, Microsoft has also issued a 250GB drive bundle in the
US for Square Enix's Final Fantasy XIII. Earlier today, the
publisher also announced the Splinter Cell: Conviction Special
Edition Bundle, which includes Ubisoft's stealth action game as
well as a 250GB-equipped black console and two black wireless
controllers.
Microsoft had not returned requests for comment on the listing
as of press time.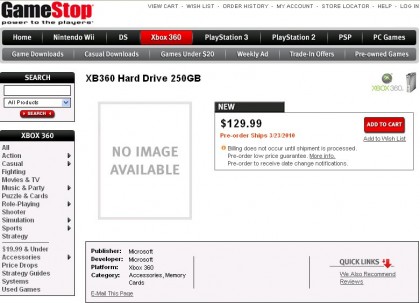 Source: http://www.gamespot.com