NEWS - Thursday, June 6, 2013

It's Official: Kiefer Sutherland is SNAAAAKE!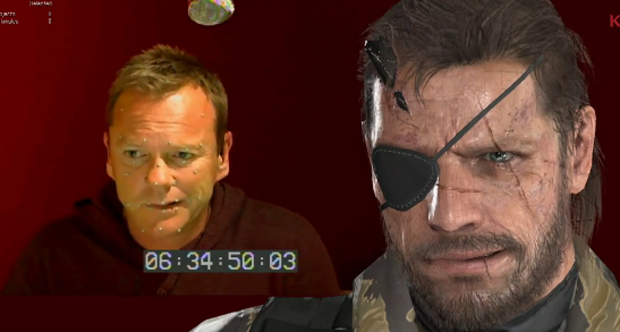 Today at Konami's pre-E3 conference, the company finally took the wraps off the voice of Solid Snake in Metal Gear Solid 5: The Phantom Pain. Since Snake will be in his 40s in this installment, series creator Hideo Kojima was looking for someone older to play the role. He said he reached out to film producer Avi Arad, and was thus introduced to the new Snake: Kiefer Sutherland.
Kojima called Sutherland "the perfect fit in terms of age and performance," and likewise Sutherland said he recognized the character despite not being a gamer. He'll be doing both the voice and facial capture for Snake in this installment. Kojima says that since the facial expressions can express more emotion, the script isn't as explicit about spelling out emotional cues.
So what about the usual voice actor, David Hayter? Arad seemed to make a passing reference to Hayter, saying, "Friend of mine used to be Snake, but Keifer is a class by himself." Hayter, for his part, made a conciliatory tweet on the subject:
David Hayter‏@DavidBHayter

Ah well, Can't fault @RealKiefer Great actor, good man. The game will probably still be excellent. Like New Coke!


Source: http://www.shacknews.com