NEWS - Wednesday, August 7, 2013

(RUMOR) - Call of Duty: Ghosts gives up the ghost on on Xbox One release date?
Update - As Twitter user ekim_gaf points out, the Canadian version of the Microsoft Store also lists Ghosts Xbox One for release on 5th November (as above).
Well would you take a look at this - the official Xbox site (in the UK) appears to think the Xbox One version of Call of Duty: Ghosts will release on 5th November. The game has been confirmed as an Xbox One launch title. Has Microsoft prematurely revealed the date that its next gen console goes on sale?
This may of course be a simple case of mixed messaging, of course - the date may apply to the Xbox 360 version, not its next generation cousin. The page in question is awash with Xbox One branding, however, with nary a squeak of Xbox 360.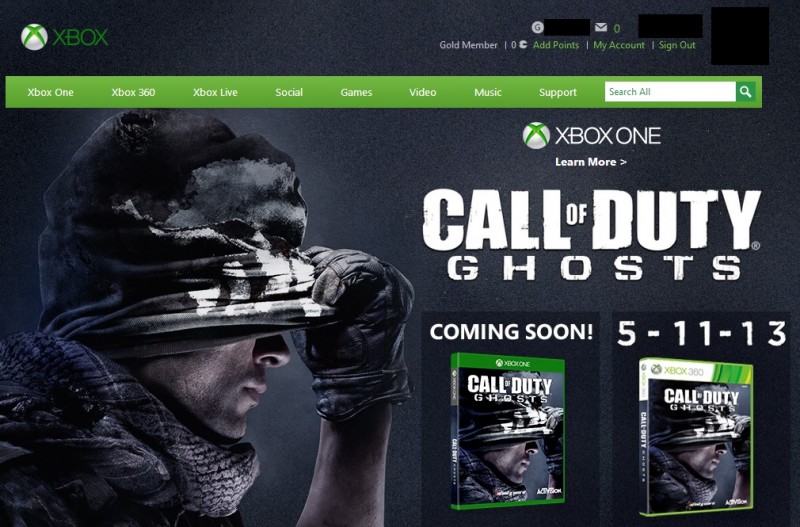 (UK website)

Infinity Ward executive producer Mark Rubin confirmed that COD: Ghosts would be a launch title on Late Night with Jimmy Fallon in June. According to previous Microsoft marketing materials, Xbox One will go on sale at some point in November, in time for the Christmas shopping rush.

Take this news with a pinch of salt until further announcements. That said, if there was any game Microsoft would want to launch the Xbox One alongside, Call of Duty: Ghosts would probably be it, don't you think?

Ta for the heads-up, NeoGAF.


Source: http://www.oxm.co.uk