NEWS - Tuesday, June 24, 2014

UPDATE: Canadian Microsoft Store cheapest place to pre-order XB1 games
UPDATE: According to the pre-order policies of Microsoftstore.ca, pre-order prices can be deemed an "estimated price" when the official price of the item is not yet known. Once the "official" price is known, customers who pre-order will be expected to pay the "official price" for the item. It should be noted that Microsoftstore.ca does not charge for pre-order items until they ship, however, so customers are free to cancel their pre-order in advance.
ORIGINAL STORY: It appears that Microsoft Store Canada is one of the few big box retailers out there that isn't trying to screw the consumer with the recent "weak Canadian dollar tax" that just about every other retailer in the country is using as an excuse to slap an extra $10 on every upcoming game. A visit to the "Xbox Games Just Announced for E3" pre-order page reveals that every game advertised there (except for Halo 5: Guardians) can be pre-ordered at the 2013-era price of $59.99, matching their current US prices. Surprisingly, this pricing doesn't only apply to Microsoft's upcoming first party titles, but also several third party titles yet to be released, such as Scalebound, Assassin's Creed: Unity, Tom Clancy's The Division and Dragon Age: Inquisition.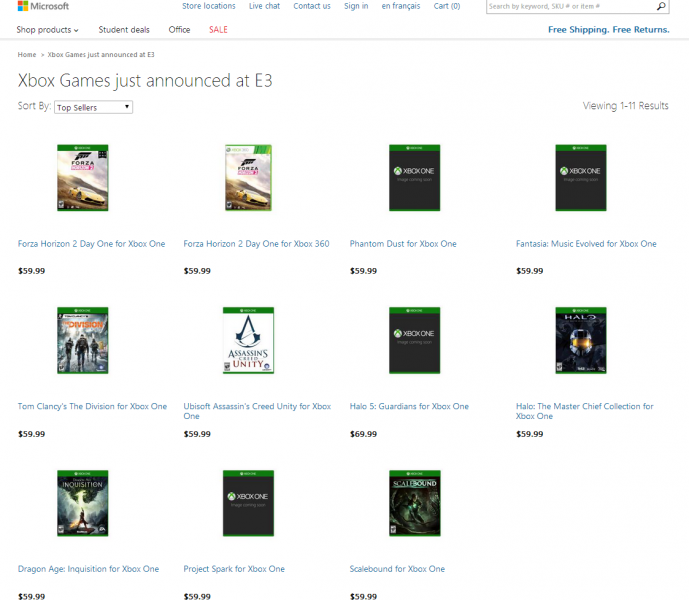 This would appear to be the most affordable way to reserve many of the best games coming to Xbox One this Fall, not to mention a no-brainer value proposition for anyone planning to pick up Halo: The Master Chief Collection without getting gauged. Of course, there's no guarantee that these prices won't shoot up closer to release, but we can certainly dream that they won't. Also, the Microsoft Store kept the price of Titanfall down to $59.99, when it launched, so there's a precedent.
On a related note, Microsoft Canada is offering a $10 Xbox Gift Card digital code along with every pre-order of Sunset Overdrive. Not a bad deal, eh?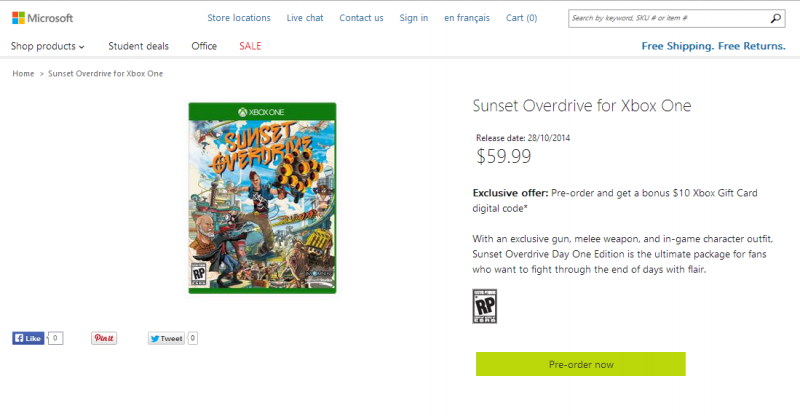 Source: http://www.microsoftstore.ca