NEWS - Tuesday, June 15, 2021

Verdun and Tannenberg Gets Free Weekend and Series X|S Upgrades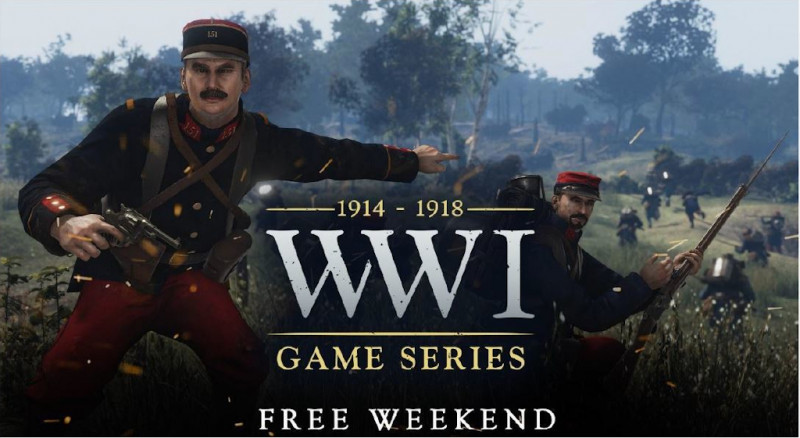 New console releases - PS5 and Xbox Series X|S - and… Free weekend for WW1 shooters Verdun and Tannenberg!
Play the FPS games for free on Steam, Xbox and PlayStation from 17-20 June!
The first two games in the authentic WW1 Game Series are now released on PlayStation 5 and Xbox Series X|S!
To celebrate M2H & Blackmill Games have made the games free to play on console and PC this weekend - June 17-20!
Players on Steam for PC, Xbox Series X|S & Xbox One, and PS5 & 4 will all be able to try the full WW1 FPS experience! There will also be 60% discounts on both titles, so if people like what they play they can buy the games to keep.
Storm onto WW1 battlefields for free this weekend
The free weekend celebrates the PS5 and Xbox Series X|S releases, and allows players to try everything Verdun and Tannenberg have to offer – no features or content are restricted. From ferocious trench warfare in the Western Front with Verdun, to the sweeping maneuver warfare between Russia and Germany in Tannenberg, there's a lot to see.
Following years of free updates, there are more than 10 nations represented across the two games, from major combatants like Germany, France, Britain, Russia and the USA to smaller countries like Romania and Belgium. Every squad has their own choice of loadouts, so playing as a U.S. Doughboy or Russian Cossack is very different to fighting as an ANZAC or a Senegalese Tirailleur.
Free upgrades for PS4 and Xbox One owners
With the release of PS5 editions of Verdun and Tannenberg, we're thrilled to announce that all owners of the PS4 versions of the games will get a free upgrade, granting them the PlayStation 5 version in their library as well. The same applies to Xbox One gamers – if they own Verdun or Tannenberg, they will get a copy of the Series X|S version for free! These free upgrades regrettably do not apply to Japan for legal reasons, the upgrade will be offered here for a symbolic price of 100 Yen/ €0.75.
Verdun and Tannenberg on PS5 and Xbox Series X|S will offer the same game yet with more intensity. So higher resolutions, anti-aliasing, more details, increased quality of shadows and textures, improved visual effects, the support of unlocked 120 Hz modes and targeting and default 60 FPS.
Both Verdun and Tannenberg will see 60% discounts to celebrate the free weekend on Steam, the Microsoft Store and the PlayStation Store. The games are standalone, so you can buy individually or take advantage of the WW1 Game Series bundles!
A third game is coming: Isonzo
The free weekend is a great opportunity for players to get to know the series and its commitment to authenticity before the release of the upcoming third entry in the WW1 Game Series: Isonzo.
Isonzo will introduce players to high-altitude Alpine warfare in Northeast Italy. It builds on the rock solid and authentic base of the WW1 Game Series, taking the intensity of Verdun and combining it with the scale of Tannenberg. It breaks new ground in the Alps with a complete feature overhaul - including a brand new historically driven game mode - to take the series to the next level and immerse players like never before!