NEWS - Tuesday, April 26, 2016

Games with Gold for May Announced
Microsoft has officially announced May's Games with Gold titles, and it seems that there is a trend here, as all four games announced will be playable on the Xbox One. Microsoft's current-gen console are getting two dedicated titles, and two Xbox 360 titles, as well, through Xbox One Backward Compatibility, for a total of four free titles courtesy of Games with Gold.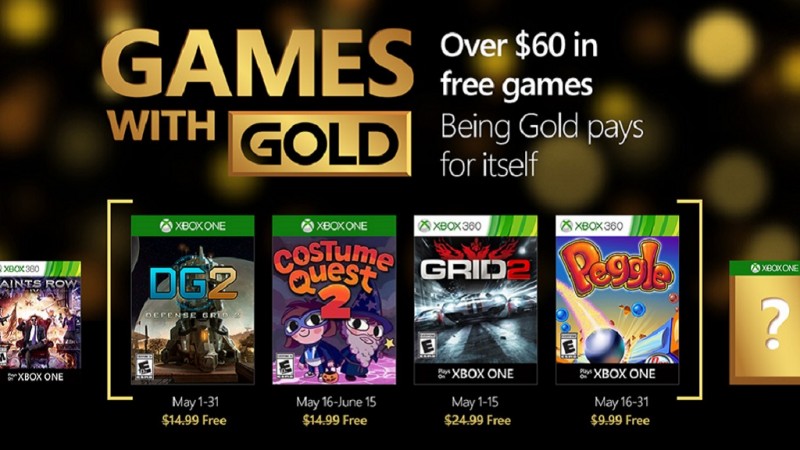 So, without further ado, here are your May Games with Gold titles (***please note dates of availability***):
Defense Grid 2 ($14.99 ERP) - Available from May 1-31 on Xbox One
The next evolution of tower defense arrives with Defense Grid 2, bringing new additions and strategies that will force you to think and adapt on the fly. With dynamic content that changes gameplay and millions of ways to beat a level, your victories are your own, and you can always come back for more. With cooperative and competitive game modes to boot, you'll have plenty to explore in this sci-fi strategy game.
Costume Quest 2 ($14.99 ERP) - Available from May 16-June 15 on Xbox One
Play as one of two heroic twins who must save Halloween in

Costume Quest 2

. Seek out candy and costumes with turn-based battles that always feel fresh, and fight against time to stop Dr. Orel White from taking over the world.
GRID 2 ($24.99 ERP) - Available from May 1-15 on Xbox 360 (Playable on Xbox One)
With stunning visuals, tracks spanning the globe and the thrilling TrueFeel handling system, you'll be able to race with confidence and flair. Pick your car – choose from a variety of vehicles spanning four decades, from classic favorites to modern supercars – then blaze your way to the top of a new world of motorsport.
Peggle ($9.99 ERP) - Available from May 16-31 on Xbox 360 (Playable on Xbox One)
Experience the peg-busting, ball-bouncing fun of the PopCap classic, Peggle. Spanning over 50 levels, with mystical powers, multiplayer face-offs, and loads and loads of bonus points, Peggle is pure entertainment.
So there you have it, the next batch of games has been announced, so make room on your HDD for a few more "free" games.


Source: Press Release