NEWS - Friday, June 10, 2016

Astro Unveils the New Updated Wireless A50 Headset
ASTRO Gaming has announced an updated version of its ASTRO A50 Wireless Gaming Headset. The ASTRO A50 is a professionally tuned, multi-purpose headset delivering wireless, audiophile-level performance for gaming, movies, and music. Originally introduced in 2012, the new and improved ASTRO A50 Wireless Gaming Headset offers a host of enhanced capabilities and functionality, including updated features and refined audio characteristics.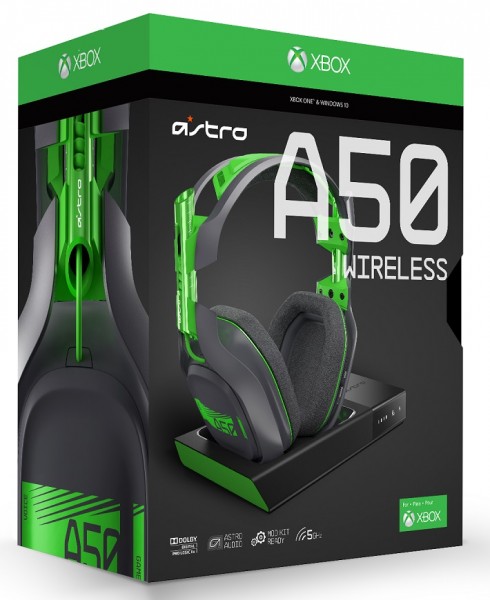 The updated ASTRO A50 Wireless Gaming Headset feature set includes:
ASTRO Audio – Tuned for gaming by ASTRO's team of gaming audio experts, ASTRO Audio delivers accurate audiophile-grade performance no matter the source.
ASTRO Comfort and Quality – Engineered for extended gaming sessions, the ASTRO A50 is not only comfortable, but also durable, lightweight, and easily adjustable.
Low-Latency 5GHz Wireless – The ASTRO A50 features 5GHz technology that provides secure wireless connectivity between the A50 headset and ASTRO Base Station transmitter. This helps eliminate interference from other wireless devices and keeps audio output in-sync with video sources.
Dolby Headphone 7.1 Surround Sound – Get the drop on opponents with stunning 7.1 channel surround sound thanks to pinpoint spatial accuracy. Also provides an expansive digital audio experience from Dolby-encoded movies, TV, and music content.
ASTRO Base Station Transmitter – The stylish new ASTRO Base Station features magnetic charging contacts for simple docking and charging. The ASTRO Base Station transmitter also provides automatic headset pairing, battery status, and Dolby Surround On/Off indication. Connectivity includes TOSLink (optical) pass-through and AUX input/output for convenient audio capturing and livestreaming.
Battery Life and Auto Power – Play for extended periods with more than 15 hours of battery life. The new Auto On/Off conserves battery life when not in use and awakes from Sleep mode once the unit is picked up.
Built-In MixAmp – Take complete control of your audio with ASTRO's integrated MixAmp technology. This all-digital solution provides advanced customization of all inputs and outputs. ASTRO's MixAmp allows adjustment of audio levels such as Master Volume and Game:Voice Balancing for the optimal mix.
Precision Boom Mic – A highly precise, noise-cancelling boom mic that's optimized for Xbox One, as well as other consoles and PC, and other voice communication. Flip-Up Mute functionality mutes voice output and conveniently stows the microphone when not in use.
Custom EQ Modes – Three EQ modes presets are available. These include ASTRO (tuned with precise bass for general gaming), PRO (tuned for precise mid and high detail for streaming and pro gaming) and STUDIO (neutral for accuracy and best for movies and music). Users can create, customize, save, and share EQ profiles to suite any listening experience or environment.
Powerful ASTRO Command Center Software – Adjust Noise Gate, Side Tone, and microphone levels for crystal clear communication. Alter game volume, chat audio, mic, and AUX channels individually to generate custom audio mixes for streaming output. Future A50 headset and Base Station firmware updates will also be accessible via the ASTRO Command Center software.
ASTRO A50 Mod Kit Compatible – Upgrade the ASTRO A50 headset with the optional ASTRO A50 Mod Kit for improved comfort, style, and noise isolation. The A50 Mod Kit includes a leather headband and leather ear cushions that can be conveniently swapped with the original cushions and headband for additional noise-cancellation and comfort.
ASTRO says that the updated ASTRO A50 Wireless Gaming Headset will be priced at $300 (US) and made available directly from ASTRO Gaming and major participating retailers later this summer. Additional details about product availability will be announced at a later date.


Source: Press Release