NEWS - Friday, July 15, 2016

Xbox One S Gears of War 4 Limited Edition 2TB Bundle Unveiled
After a few rumours and speculation, Microsoft has finally unveiled the Xbox One S Gears of War 4 Limited Edition 2TB Bundle: the first-ever custom-designed Xbox One S bundle, and we have to say that it is a beauty of a console.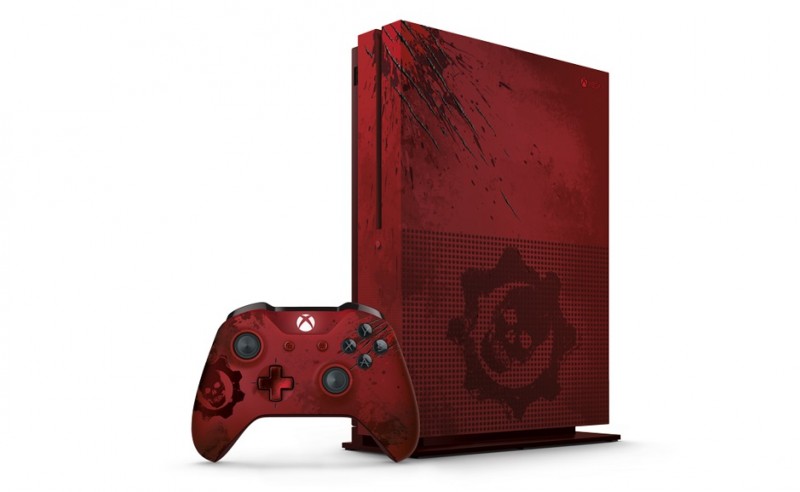 Continuing the collaboration between The Coalition and the Xbox design team, it is inspired by the idea of creating something that looks as if it were lifted right out of the game: a console that bears the battle marks of surviving a desperate fight against Gears of War 4's ferocious new enemies – the Swarm. Advances in technology and manufacturing techniques really let Microsoft free up their imaginations. From the laser-etched scratches, to the bloody thumbprint on the controller's red metallic D-pad and the iconic Crimson Omen, we looked closely at what we could do with every piece of hardware.
The Xbox One S Gears of War 4 Limited Edition 2TB Bundle will be the ultimate Gears bundle, including the following:
Gritty, battle-weathered custom Xbox One S console with a massive 2TB hard drive
All-new Xbox Wireless Controller – Gears of War 4 Crimson Omen Limited Edition, featuring a textured grip for enhanced comfort; our most reliable wireless signal ever, with up to two times the wireless range compared to previous controllers when used with Xbox One S; and Bluetooth radio, giving you an easy wireless connection to your Windows 10 PCs and tablets
4K Ultra HD video and Blu-ray player, custom system sounds, and a vertical stand
High Dynamic Range support for video and games
Full game download of Gears of War 4: Ultimate Edition for both Xbox One and Windows 10 (featuring cross-play support in all co-op modes) – a $99 value
Early access to the game on Oct. 7
Gears of War 4 Season Pass, featuring the exclusive Vintage VIP Pack, permanent access to future multiplayer maps for private games, six additional Gear Packs including the Vintage JD Gear Pack, early previews to upcoming modes, and much more
Beyond that, fans will also receive a host of in-game content, starting with the exclusive Vintage Oscar Elite Gear Pack, which features Vintage Oscar, the Vintage Retro Lancer, Vintage Boomshot and more. We're also throwing in the Pre-Order Vintage Del Gear Pack plus six additional Gear Packs to make sure that fans are fully stocked.
Alongside this new bundle, Microsoft also debuted another Gears of War 4 custom controller, sold separately.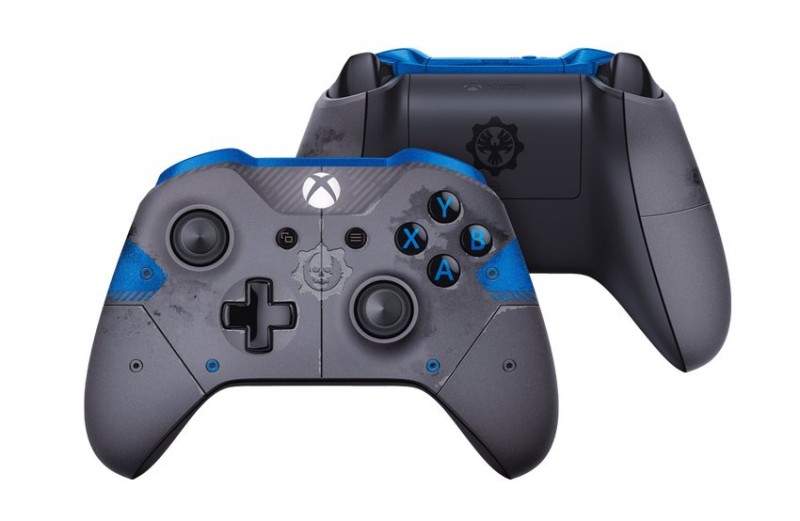 The all-new Xbox Wireless Controller – Gears of War 4 JD Fenix Limited Edition is designed after JD Fenix's armor and features metallic blue accents and textured grip for enhanced controls, as well as the COG logo – the Phoenix Omen.


Source: Xbox News Wire