NEWS - Thursday, August 25, 2016

Sixth, and final, List of Cars in Forza Horizon 3's Garage Announced
Over the course of the past six weeks the team at Playground Games has been unveiling weekly lists of cars that are coming to Forza Horizon 3. Well, that 'ride' is over, as they are revealing the final 65 cars for Forza Horizon 3, making this the biggest week since the Forza Garage opened.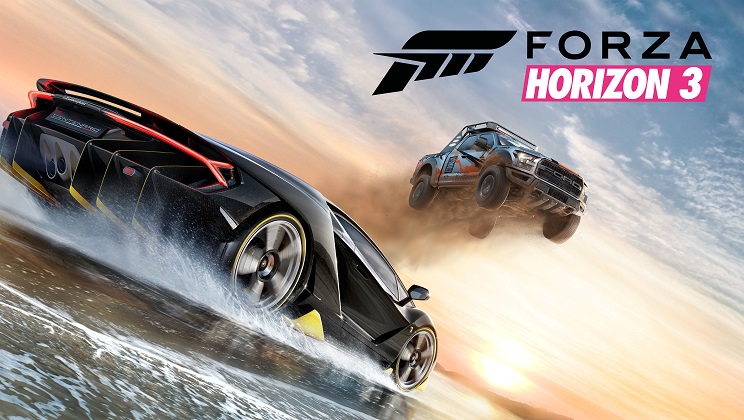 So, with that being said, here are some details on our spotlight cars.
1972 Reliant Supervan III
There is not a much better example of British vehicular eccentricity and thrift than the Reliant Supervan III. Nor, frankly, is there a better example of a vehicle more likely to find itself on its side after some aggressive driving. Reliant vehicles, like the Robin, Regal, and utilitarian Supervan, are three-wheeled and built around a motorcycle engine. Drivers only need have a motorcycle license to pilot a Reliant on public roads and even though 29 hp is not much power, it is enough to propel the diminutive ride to highway speeds. With even a spare wheel, seat belts, and a passenger seat as optional, you won't find much in the way of luxury in the Supervan III. What you will find is a drive like none other.
1946 Ford Super Deluxe Station Wagon
There is a certain nostalgia about a wood-bodied vehicle or "woody." The Ford Super Deluxe Station Wagon is a perfect post-World War II example of the halo vehicles of the time– a time when you didn't wax your car, you went out and put on a new coat of varnish on it. It's a work of art and since it's a station wagon, this woody was a truckster that served families loyally with all of its 90 horsepower and ample storage space. Whether you find yourself travelling the highways and byways in search of the most picturesque spot to photograph this classic or just enjoying the ride along the way, you will find that this is one special wagon.
2015 Alumi Craft Class 10 Race Car
Consistency on any terrain is what the Alumi Craft Class 10 Race Car is built for. With a long travel suspension and best-in-class durability, it's no wonder the top names in desert racing worldwide race Alumi Craft Class 10s. The tube chassis and roll cage will keep you safe, should you land a huge jump wrong side up; just roll it back over and keep on going. This buggy is happy on the street too, ready to slide through any corner you point it toward. But should some bumps come along, just floor it and hang on.
And here the list of the final cars being announced for Forza Horizon 3:
| Year | Make | Model |
| --- | --- | --- |
| 1992 | Alfa Romeo | 155 Q4 |
| 1965 | Alfa Romeo | Giulia TZ2 |
| 2015 | Alumi Craft | Class 10 Race Car |
| 2012 | Aston Martin | V12 Zagato |
| 2011 | Audi | RS 3 Sportback |
| 2016 | Audi | R8 V10 plus |
| 1991 | BMW | M3 |
| 1969 | Chevrolet | Camaro Super Sport Coupe |
| 1970 | Chevrolet | Chevelle Super Sport 454 |
| 1960 | Chevrolet | Corvette |
| 1970 | Chevrolet | Camaro Z28 |
| 1953 | Chevrolet | Corvette |
| 1995 | Chevrolet | Corvette ZR-1 |
| 1968 | Dodge | Dart Hemi Super Stock |
| 1962 | Ferrari | 250 GTO |
| 2008 | Ferrari | California |
| 2013 | Ferrari | 458 Speciale |
| 1965 | Ferrari | 250LM |
| 1952 | Fiat | 8V Supersonic |
| 1995 | Ford | SVT Cobra R |
| 2013 | Ford | Shelby GT500 |
| 2017 | Ford | Focus RS |
| 1946 | Ford | Super Deluxe Station Wagon |
| 1973 | Holden | HQ Monaro GTS 350 |
| 2004 | Honda | Civic Type-R |
| 2015 | Jaguar | F-Type R Coupé |
| 2015 | Jaguar | XKR-S GT |
| 2011 | Koenigsegg | Agera |
| 1988 | Lamborghini | Countach LP5000 QV |
| 2010 | Lamborghini | Murciélago LP 670-4 SV |
| 1988 | Lamborghini | Jalpa |
| 1986 | Lamborghini | LM 002 |
| 1968 | Lancia | Fulvia Coupé Rallye 1.6 HF |
| 2015 | Land Rover | Range Rover Sport SVR |
| 1997 | Lexus | SC300 |
| 2002 | Lotus | Esprit V8 |
| 1956 | Lotus | Eleven |
| 2004 | Maserati | MC12 |
| 2010 | Maserati | Gran Turismo S |
| 1997 | Mazda | RX-7 |
| 2011 | Mazda | RX-8 R3 |
| 2016 | Mazda | MX-5 |
| 2015 | McLaren | 650S Coupe |
| 2015 | McLaren | 570S Coupé |
| 1954 | Mercedes-Benz | 300 SL Coupé |
| 1998 | Mercedes-Benz | AMG CLK GTR |
| 2012 | Mercedes-Benz | SLK 55 AMG |
| 1986 | MG | Metro 6R4 |
| 1992 | Nissan | Silvia CLUB K's |
| 1969 | Nissan | Fairlady Z 432 |
| 1993 | Nissan | Skyline GT-R V-Spec |
| 1997 | Nissan | Skyline GT-R V-Spec |
| 1966 | Nissan | Silvia |
| 2010 | Noble | M600 |
| 1984 | Opel | Manta 400 |
| 1984 | Peugeot | 205 T16 |
| 2000 | Plymouth | Prowler |
| 1987 | Pontiac | Firebird Trans Am GTA |
| 1972 | Reliant | Supervan III |
| 2013 | Renault | Clio RS 200 |
| 2016 | Rolls-Royce | Dawn |
| 2015 | Subaru | WRX STi |
| 1973 | Toyota | Corolla SR5 |
| 2012 | Ultima | GTR 720 |
| 1967 | Volvo | 123GT |

Source: Forza Motorsports Webpage