NEWS - Monday, October 24, 2016

Games with Gold for November Announced
Microsoft has unvieled their Games with Gold titles for November. It looks like they have a game or two that should interest everyone next month.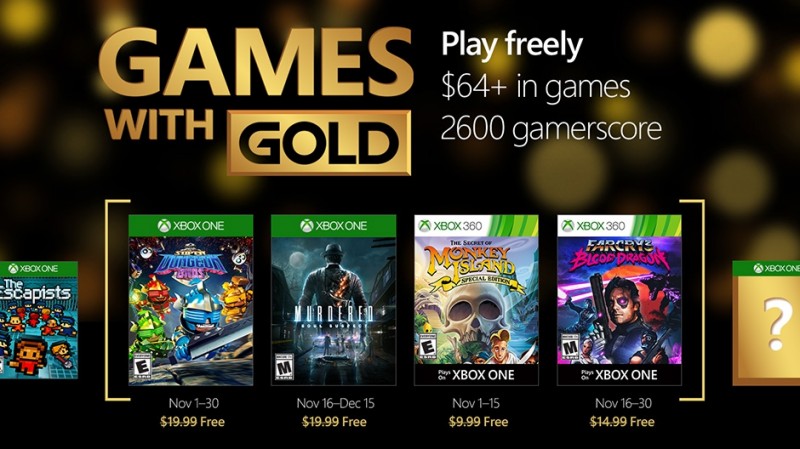 Here is what is you can, and should be, downloading next month:
Super Dungeon Bros ($19.99 ERP) - Available from November 1-30 on Xbox One
Metal and fantasy combine in the co-op dungeon brawler Super Dungeon Bros. Team up with your brothers in arms to conquer obstacles by throwing them across hazards or stacking up to create a deadly tower of blades.
Murdered: Soul Suspect ($19.99 ERP) - Available from November 16- December 15 on Xbox One
Murdered Soul Suspect offers a wide set of supernatural skills for discovering leads. Interrogate the dead, read minds, and outwit demonic spirits set on devouring you in this mystery stealth game.
Monkey Island: SE ($9.99 ERP) - Available from November 1-15 on Xbox 360 & Xbox One
Monkey Island: SE is back and free to Gold members on November 1! Guybrush Threepwood is a wannabe pirate, determined to become the most infamous man in the Caribbean. Too bad a bunch of actual pirates are around to make his life more difficult. In this remastered version of the classic LucasArts adventure game, set sail for adventure, monkeys, and yes, pirates as you help Guybrush get in way, way over his head.
Far Cry 3 Blood Dragon ($14.99 ERP) - Available from November 16-30 on Xbox 360 & Xbox One
In Far Cry 3: Blood Dragon jump into a 2007 as Sergeant Rex Colt, kill the baddies and save the world while experiencing every 80's cliché, from cyborgs to mutants to neon on every corner.
Wanna see some of these games in motion, well check out what Major Nelson (aka Larry Hyrb) has to say about next months offerings along with some gameplay from each game:


Source: Xbox News Wire