NEWS - Tuesday, November 15, 2016

"Bridge Constructor" Now 50% Off for Gold Members
"Bridge Constructor" is discounted by 50% right now as one of Microsoft's "Deals With Gold" games.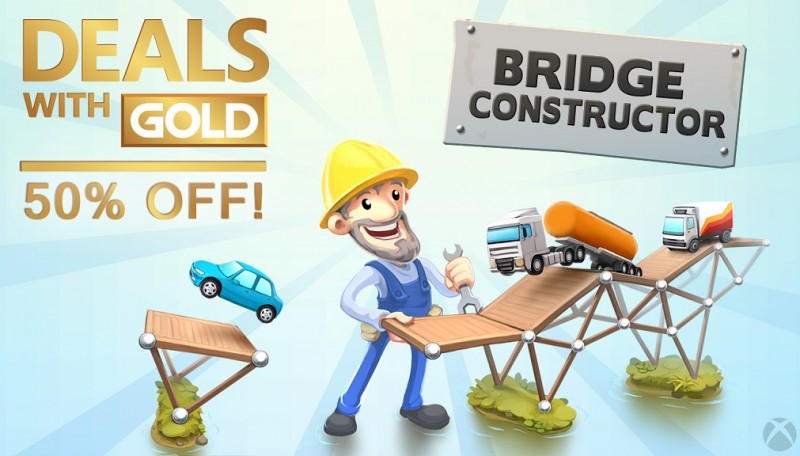 What is this game you ask? Well, you become an appraised bridge engineer and architect in Bridge Constructor. Create and design your own constructions and watch the cars and trucks pass over them - or see them fall and crash while your inferior creations collapse due to weight and the laws of physics!
With the current "Deals with Gold" sale, for only 5 bucks, Gold Members will get the full game including the built-in DLC "Slopemania", featuring 24 tricky levels that will have you using sloping lanes to overcome massive height differences. In addition, the "Crazy Levels" are the real brainteasers and require out-of-the-box thinking and unusual solutions.
| | |
| --- | --- |
| Bridge Constructor 50% Off | Deals With Gold | |

Just a short information for the bargain hunters among you: Our million selling title "Bridge Constructor" is discounted by 50% right now as one of Microsoft's "Deals With Gold" games.

For only 5 bucks, Gold Members will get the full game including the built-in DLC "Slopemania", featuring 24 tricky levels that will have you using sloping lanes to overcome massive height differences. In addition, the "Crazy Levels" are the real brainteasers and require out-of-the-box thinking and unusual solutions. Please find here the specific direct link for your country:

About Headup Games

We are an independent games publisher located near Cologne in Germany awarded as Best German Publisher in 2012 and 2013 by the German Developers Association. Together with our partners, we focus on the contentment of our customers and the best gameplay experience delivered at the fairest price-quality ratio. Since our foundation, we have published over 100 games, including many projects from highly talented developers that are known for their potential and creativity. Our portfolio features high-quality games such as Aragami, Superhot, Super Meat Boy, The Binding of Isaac, Terraria, Limbo, The Basement Collection, Gone Home, Q.U.B.E., Frozen Synapse and many more as well as the million sellers #1 iOS hits The Inner World, Bridge Constructor and Bridge Constructor Playground.

More information can be found at www.headupgames.com



Source: Press Release