NEWS - Thursday, March 23, 2017

Games with Gold for April Announced
It's that time as we know what games will be in the Games with Gold program for the next month, and in this case, it is for April 2017.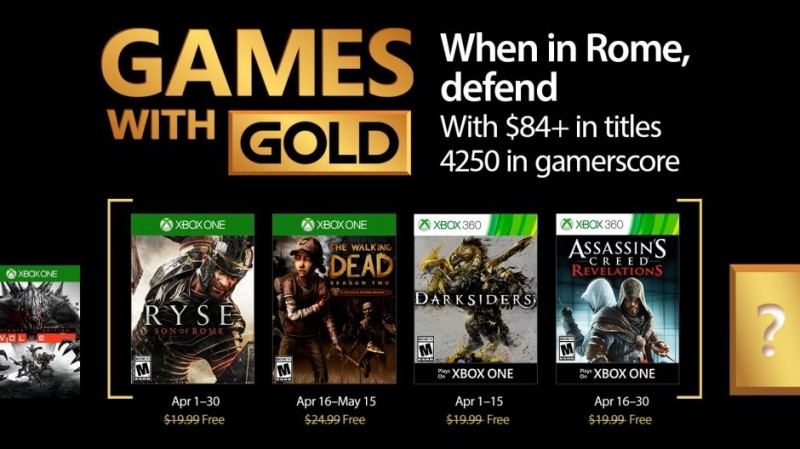 So without us having to say anymore, here are some details on what you'll be able to download:
Ryse: Son of Rome - Available April 1-30 on Xbox One
An immersive action-adventure story of struggle, brutality, and heroism. Starting April 1, play as Roman soldier Marius Titus who aims to avenge the slaying of his family and fight to save the Roman Empire. This third-person hack-and-slash boasts fluid, combo-based combat with stunning graphics and environments.
The Walking Dead: Season 2 - Available April 16-May 15 on Xbox One
The sequel to the Game of the Year winner. Your choices and actions impact the story as you are constantly tested to survive in a world gone mad. Meet other survivors, explore new locations, and make gruesome decisions in this excellent five-part series.
Darksiders - Available April 1-15 on Xbox 360 & Xbox One
Dishonored after the premature end of the world, War must return to post-apocalyptic Earth to seek out those responsible, fighting angel and demon alike who blame you for the devastation. In this action-RPG of epic proportions, you must gain power, seek upgrades, and wield a legendary arsenal to clear your name.
Assassin's Creed Revelations - Available April 16-30 on Xbox 360 & Xbox One
Following in the footsteps of the original game's hero, Altair, Ezio seeks to uncover the secrets of the master assassin. Explore Constantinople, Cappadocia, and Masyaf, bringing the Renaissance assassin through the lands of the original master
So there you have it folks, a new batch of games for you to play, for free, well, at least with your Xbox Live Gold subscription, in April.


Source: Xbox News Wire