NEWS - Thursday, June 8, 2017

Turtle Beach Announces Stealth 700 and Stealth 600 Series Headsets
Looks like headset makers Turtle Beach is getting on the totally wireless, no adapter bandwagon for the Xbox One as they have unveiled the Stealth 700 and Stealth 600 headsets.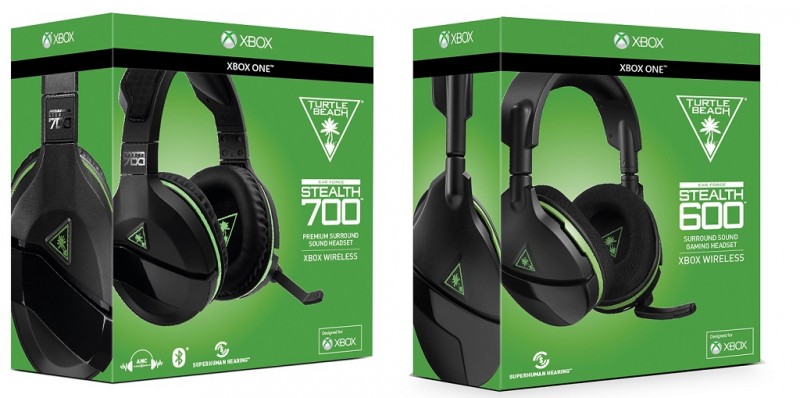 So what is new with this latest series you ask? Well, check out these features:
The Stealth 700 & 600 for Xbox One will be the first gaming headsets planned to be available at retail using Microsoft's new Xbox Wireless technology to connect directly to the console just like a wireless Xbox One controller does, and will also take advantage of Microsoft's new Windows Sonic for Headphones to deliver immersive surround sound for a more in-depth gaming experience.
Both the Stealth 700 & 600 series gaming headsets feature an all-new sleek and modern style, with large powerful 50mm over-ear speakers for amazing game audio, and a new flip-up version of Turtle Beach's high-sensitivity mic that ensures your every command is heard loud and clear.
Comfort-wise, the Stealth 700 & 600 don the latest iteration of Turtle Beach's unique ProSpecs™ glasses friendly design which alleviates pressure from the headset on players' glasses, and the Stealth 700's ear-cushions and headband come wrapped in synthetic leather to provide additional noise-isolation and deeper bass response. The Stealth 600's ear-cushions and headband are wrapped in a breathable mesh fabric for extended comfort.
The Stealth 700 & 600 wireless surround sound gaming headsets for Xbox One consoles and PS4 also offer Turtle Beach's exclusive Superhuman Hearing™ sound setting to give you a competitive advantage, by allowing you to hear soft sounds like enemy footsteps sneaking-up from behind and weapon reloads just before an ambush, as well as independent game and chat volume control, and a rechargeable battery that delivers up to 10-15 hours of gaming per use.
Additionally, the STEALTH 700 headsets for Xbox One family of consoles also feature Active Noise-Cancellation to block out unwanted background noise and keep you fully immersed in your games, and Bluetooth connectivity to stream music and take calls while playing.
Bluetooth also allows you to connect to the new Turtle Beach Audio Hub app where you'll be able to adjust a variety of settings, including Dynamic Chat Boost™ which increases incoming chat volume during loud gameplay so you never miss a command, Mic Monitoring to avoid shouting at other players, Audio EQ Presets like Bass Boost, and more.
The Stealth 700 & 600 series headsets are planned to launch in Sept. 2017 at participating retailers for a MSRP starting as low as $99.95.
So there you have it folks, new headsets for the Xbox One which cuts the need for any wires and any adapters. We hope to check these out while in LA to give you the lowdown.


Source: Press Release