NEWS - Monday, June 12, 2017

Summary of E3 Xbox One X Unveiling
On Sunday Microsoft finally unviled the final details of the Project Scorpio to world. Now called the Xbox One X, the mid-generation console is slated to hit November 7, 2017 at a price of $499 (USD)/$599 (Cdn).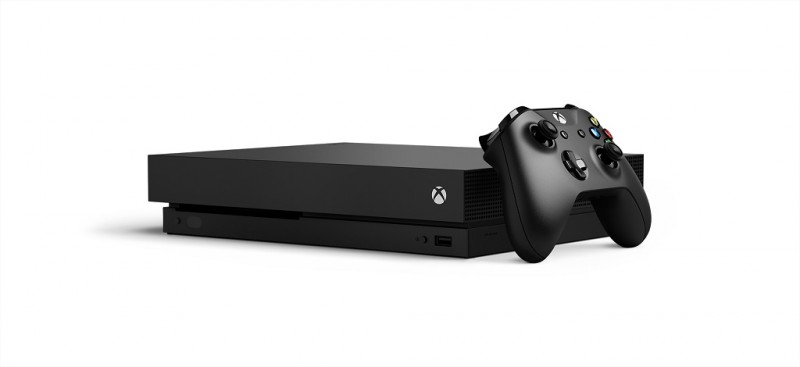 As stated by Microsoft, the Xbox One X was designed to be the best console to create and play games on, putting the greatest graphic fidelity in the hands of the world's best game creators to create true 4K games. Head of Xbox Phil Spencer underscored that every game will play great across the Xbox One family, and Xbox One X also makes your existing library even better, with better textures, smoother framerates and faster load times.
Xbox One is the only console system designed to play the best games of the past, present and future. The Xbox One games and accessories you already own are compatible with Xbox One X, so if you're an Xbox gamer, chances are you already have a library of games that will look and play better on Xbox One X.
It was announced that Xbox will expand the Xbox One backward compatibility library of nearly 400 Xbox 360 games to include original Xbox classics, starting with fan favorite "Crimson Skies." Xbox also revealed that "Gears of War 4," "Forza Horizon 3," "Minecraft," "Resident Evil 7," "Final Fantasy 15," "Tom Clancy's Ghost Recon Wildlands," "Rocket League" and dozens of other popular Xbox One games will receive free updates to take full advantage of the power of Xbox One X. A host of these titles will be enhanced to run in true 4K, and many will be available at Xbox One X launch.
Games that were veiled at the Press Conference were:
Anthem (EA)
The Artful Escape of Fancis Vendtti (Console Launch Exclusive)
Ashen (Console Launch Exclusive)
Assassins Creen Origins (Ubisoft)
Black Desert (Console Launch Exclusive)
Codename Vein (Bandai Namco)
Crackdown 3 (Xbox One & Win 10 Exclusive)
Cuphead (Xbox One & Win 10 Exclusive)
The Darwin Project (Console Launch Exclusive)
Deep Rock Galactic (Console Launch Exclusive)
Dragon Ball FighterZ (Bandai Namco)
Forza Motorsport 7 (Xbox One & Win 10 Exclusive)
The Last Night (Console Launch Exclusive)
Life is Strange: Before the Storm (Square Enix)
Metro Exocus (Deep Silver)
Middle-Earth: Shadow of War (Warner Bros. Interactive Ent)
Minecraft - Unification Update & Super Duper Graphics Pack
Ori and The Will of the Wisps (Xbox One & Win 10 Exclusive)
PLAYERUNKNOWN Battlegrounds (Console Launch Exclusive)
Sea of Thieves (Xbox One & Win 10 Exclusive)
State of Decay 2 (Xbox One & Win 10 Exclusive)
Super Lucky's Tale (Xbox One & Win 10 Exclusive)
Tacoma (Console Launch Exclusive)
All these games will run on all the Xbox One consoles currently available, and will only be enhanced by the Xbox One X in 4K and HDR.

While E3 is alive and running, we have one of our staffers on the E3 floor taking a look at as much as he can, so we don't know what he'll cover yet, but we'll just have to wait and see.


Source: Press Release