NEWS - Thursday, October 26, 2017

Novembers Games with Gold Announced
As we head towards the month of October, and get ready for November, Microsoft has let fans know what Xbox Live Gold subscribers will be able to download next month. Check out the details.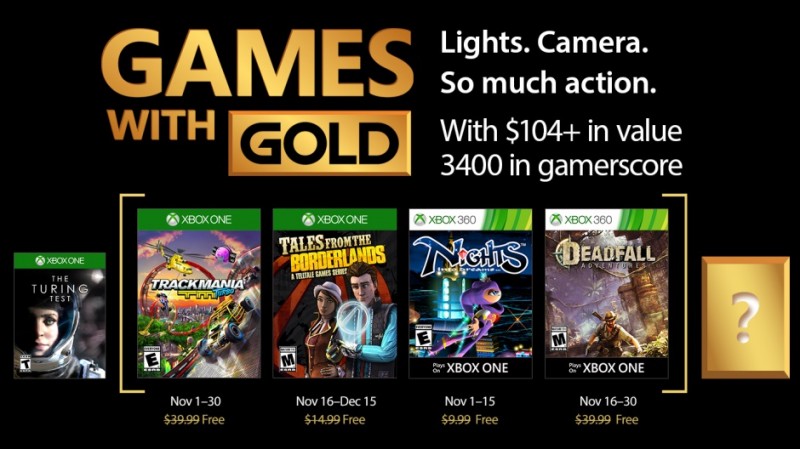 Trackmania Turbo - Available November 1 to 30 on Xbox One
With four gorgeous environments, multiple difficulty levels and 200 tracks, there's a ton to see and do. There's also the unique Double Driver mode in which two players control the same car! And let's not forget the excellent soundtrack that reacts to your driving style.
Tales from the Borderlands - Available November 16 to December 15 on Xbox One
Play all five episodes in this entertaining comedy adventure taking place in the Borderlands universe. Play as both Rhys, a cyber-enhanced dope, and Fiona, an ambitious con-woman, who are thrown together by fate as unlikely partners in their quest for incredible riches. Naturally, plenty of complications like bad guys, gang warfare, betrayal, revenge, explosions (so many explosions) stand between you and riches you can only imagine.
Nights into Dreams… - Available November 1 to 15 on Xbox One and Xbox 360
The renowned classic platformer Nights into Dreams returns to Xbox! Save the land of Nightopia from Wizeman the Wicked by gathering orbs to unlock stolen emotions and battle his powerful minions. With enhanced graphics, leaderboards, and levels from Christmas Nights, this beloved title is better than ever.
Deadfall Adventure - Available November 16 to 30 on Xbox One and Xbox 360
The year is 1938, and you're James Lee Quatermain, son of the renowned adventurer, escorting Agent Jennifer Goodwin to recover an ancient artifact in an Egyptian temple. In this first-person action-adventure game, immerse yourself in the lost world of Mayan ruins, forbidden cities and the deserts of Egypt.
So there you have it Xbox fans, more games to download, for free with your Xbox Live Gold membership.


Source: Xbox News Wire