NEWS - Monday, September 16, 2019

Remedy's Control Content Roadmap & Expansions Revealed
If you are part of the gaming world who picked up and played a copy of Remedy's Control, then we might just have some news for you. There is a a host of upcoming post-launch content for the game.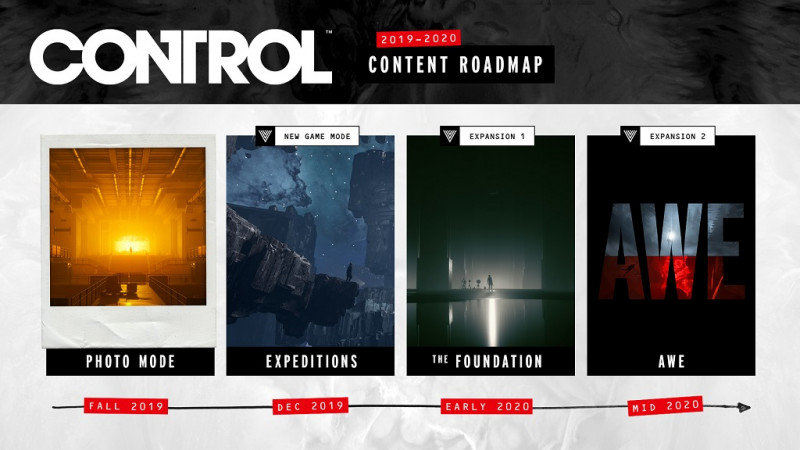 Upcoming content for the renowned supernatural action-adventure game includes:
Photo Mode: Remedy is working on the much-desired Photo Mode, arriving this fall free to all players, which will enable players to take awesome snapshots of Jesse in the Oldest House.
New Game Mode: In December, the Expeditions game mode will be released, offering challenging new end-game content in which Jesse must help Security Chief Arish explore the mysterious Formation and its strange surroundings. Here you will face some of the greatest challenges the Oldest House has to throw at you. Expeditions will be free to all players.
Expansions: In 2020, two full, paid Expansions will be released, The Foundation and AWE. Both will offer new story missions, teams, enemies and game mechanics, and will take place in new locations within the Oldest House.
The Foundation will delve into the history of the Oldest House. At the request of the ever-mysterious Board, Jesse must explore what lies beneath the Bureau as she returns order to the Foundation and the Oldest House itself.
The second Expansion, called AWE, will take Jesse into a new area of the Oldest House, the Investigations Sector, where the Bureau closely examines Altered World Events.
Each Expansion will also be available to purchase individually at release, and the Season Pass and individual Expansions will be available for purchase on Xbox One a bit after PlayStation owners get their stuff first, as a deal of somewhat was signed for Sony to get some early, and exclusive, stuff.


Source: Press Release