NEWS - Friday, August 27, 2021

PSO2 New Genesis Announces Sonic Colors: Ultimate Collaboration

Phantasy Star Online 2 New Genesis Announces Sonic Colors: Ultimate Collaboration
SEGA Reveals September Limited-Time Campaigns in Latest Official Broadcast: NGS Headline
SEGA announced two limited-time campaigns coming to Phantasy Star Online 2 New Genesis, Sonic Colors: Ultimate Collaboration and Autumn Event. This was announced in today's official PSO2 NGS broadcast, NGS Headline. Both campaigns begin September 1 and run through September 28 at 7 PM PDT (September 29 at 11 AM JST).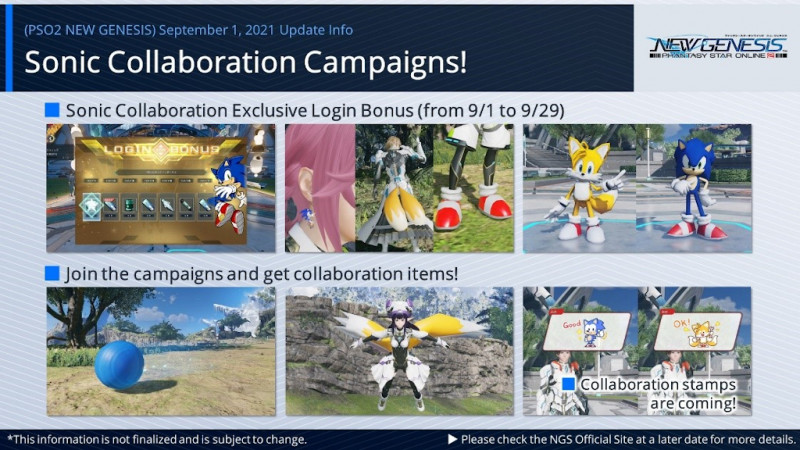 A special collaboration campaign to celebrate the launch of Sonic Colors: Ultimate starts soon and there are many ways for players to participate! Log in on seven different days during the campaign period to receive Sonic-themed rewards each day. Special Sonic-themed Motion cosmetic items, like the Dash Motion Sonic Speed Dash and Glide Motion Tails Propeller Flying, will be gifts when purchasing items with ARKS Cash (AC) during the campaign.
Central City will be decorated for the Autumnal Equinox! Get special rewards by earning and redeeming seasonal campaign currency. Players can earn seasonal currency by completing daily tasks and defeating seasonal enemies. Starting September 15, some seasonal enemies will change and there will be additional rewards. An additional log in bonus campaign will also begin, so be sure to log in on seven different days between September 15 and September 28 to get as many rewards as possible.
Players can play nine years of content in Phantasy Star Online 2 and join the newest entry to the series, Phantasy Star Online 2 New Genesis. Download and play Phantasy Star Online 2 New Genesis on PC and Xbox One for free today.