NEWS - Thursday, June 16, 2022

TMNT: Shredder's Revenge Out Now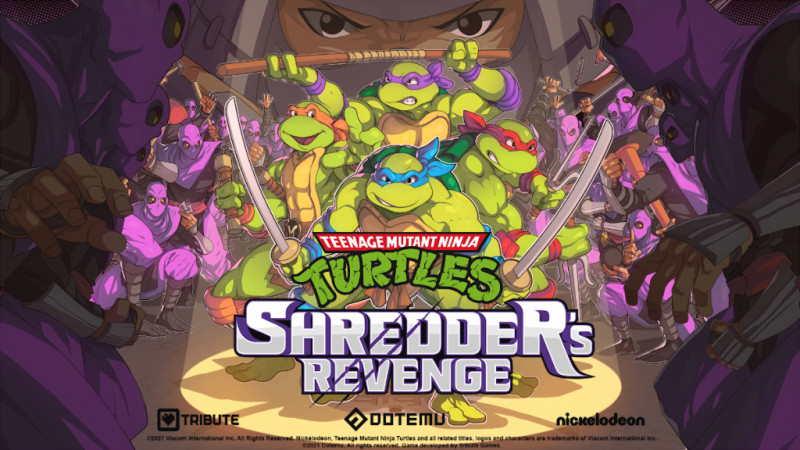 COWABUNGA, DUDE! Teenage Mutant Ninja Turtles: Shredder's Revenge Available Now on PC, PlayStation 4, Xbox One, Nintendo Switch from Tribute Games & Dotemu
Original soundtrack also available featuring a brand-new track from Ghostface Killah and Raekwon of the Wu-Tang Clan
The retro masters at publisher Dotemu and brawler experts at developer Tribute Games, in partnership with Nickelodeon, release today the shell-kicking Teenage Mutant Ninja Turtles: Shredder's Revenge on PC, PlayStation 4, Nintendo Switch, Xbox One and Game Pass. Featuring six player co-op with all four Turtles and the playable brawling debut of the ninjutsu expert Master Splinter, hockey stick-wielding hero Casey Jones and fiery field reporter April O'Neil, fans can jump in and start fighting the Foot Clan starting today for $24.99. Teenage Mutant Ninja Turtles: Shredder's Revenge is serving up a 10 percent discount to pizza-powered fighters for the next week on Nintendo Switch and Xbox, for the next two weeks on PlayStation* and for the next three weeks via Steam.
A far-out and totally bodacious trailer celebrates the launch of the game, showcasing high-octane turtle power in action. Check out the awesome story mode map, epic footage from the game including two never-before-shown stages and the return of Dimension X, the spooky home of the evil Krang and the Utrom.
Fans will also nab the game's incredible original soundtrack composed by Tee Lopes (Streets of Rage 4: Mr. X Nightmare, Sonic Mania), which features a completely original banger written performed by Ghostface Killah and Raekwon, "We Ain't Came To Lose." Download, stream, or purchase the OST on Apple Music, Spotify, YouTube, and other platforms: https://idol-io.link/TMNT-ShreddersRevenge-OSTTW
Teenage Mutant Ninja Turtles: Shredder's Revenge takes its inspiration from the classic Turtle brawlers of the 1980s, transporting players back to the heyday of classic arcades with eye-catching full color pixel art graphics and blending them with super-fresh gameplay mechanics. Kick shell in a radical new story mode across New York City, and master each player's unique skills and combos that make each run through the game wholly unique. From showdowns with infamous rivals like Bebop and Rocksteady to returns to signature locales like Dimension X, Teenage Mutant Ninja Turtles: Shredder's Revenge is a bodacious celebration of classic TMNT beat-em-ups with its own modern touches.
Radical features, dude:
Iconic 80s inspired retro Turtles brawling action on modern platforms
Six player local & online co-op, featuring April O'Neil and Casey Jones' playable debut in a TMNT beat-em-up
Attributes, moves and animations tailored to each fighter, channeling their personality and granting a unique edge in battle
Gorgeous pixel renders of signature locales like Dimension X, Coney Island and more
Absolutely bangin' OST composed by Tee Lopes featuring cultural icons Ghostface Killah and Raekwon
Expertly crafted platform brawler gameplay from the teams who brought you Streets of Rage 4 and Panzer Paladin
Bodacious replayability from the challenge to master all seven characters with gameplay that makes each run feel totally radical