NEWS - Tuesday, October 18, 2022

Brewmaster will be pouring onto consoles October 27th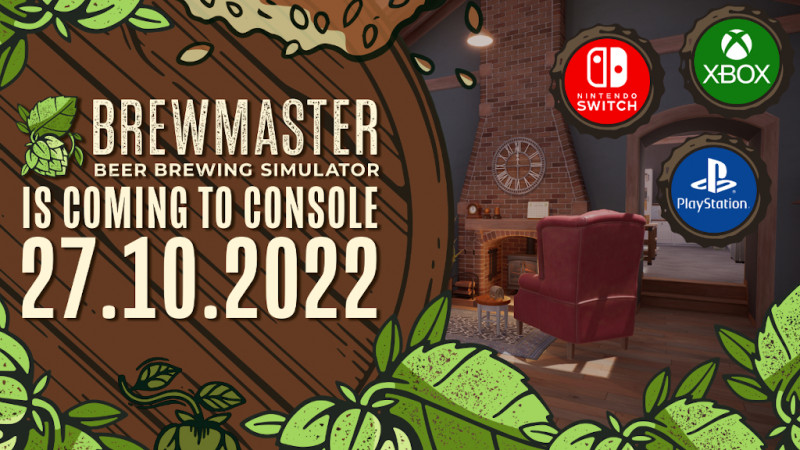 Brewmaster will be pouring onto consoles on 27th October 2022!
Brewmaster: Beer Brewing Simulator will be pouring onto PlayStation, Xbox, and Nintendo Switch on October 27th 2022!
We want to thank our console players for being so patient, we at Auroch Digital, alongside our publisher Fireshine Games, have been working so hard on brewing the console version just right and we are so glad we are able to share this release date with our players.
Brewmaster: Beer Brewing Simulator is the first realistic brewing simulator, with authentic, chemistry-driven brewing techniques, to bottling and labelling your very own beers.
About Brewmaster
Discover, learn and master the art of homebrewing in the ultimate celebration of craft beer. From perfecting authentic, chemistry-driven brewing techniques to naming, bottling and labelling - refine your craft to become the ultimate Brewmaster in the first ever realistic beer brewing experience.
With all the tricks of the trade and the best equipment at your disposal, follow a recipe, or experiment with a huge variety of real-world ingredients to hone your skills. Enter friendly competitions, earn beer tokens, and upgrade your equipment to become an even better brewer.
Choose to experience the story-led Brewmaster mode or throw yourself into Creative Mode, a sandbox with everything unlocked.
Create the beer of your dreams with a thorough, true-to-life simulation of brewing chemistry
Use a huge range of ingredients and equipment to create your own recipes, brew different beer styles, and learn the process from start to finish
Turn passion, precision, and preparation into progress - enter competitions, fulfil job requests, unlock better equipment, and grow your reputation as a Brewmaster!
Customise your beers by designing labels!
Make your brew space your own with a wide range of unlockable cosmetics
Choose to experience the story-led Brewmaster mode or chill out in the relaxing sandbox Free Play Mode