NEWS - Tuesday, October 18, 2022

Minion Masters' New "Torment" Season Update Is Available Today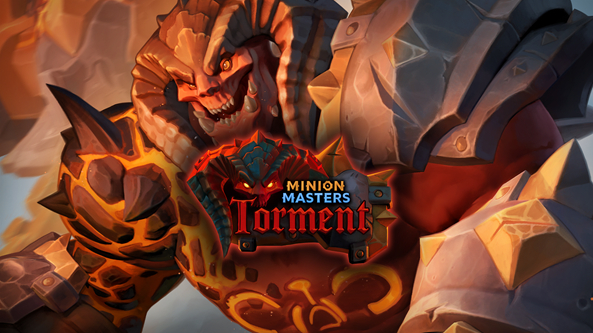 Minion Masters' New "Torment" Season Update Is Available Today on Steam, Xbox Series X|S & Xbox One
Fans can grab the hit fantasy strategy game's new premium DLC free for a limited time!
BetaDwarf has released the new "Torment" season update for Minion Masters, the fantasy deck-building strategy game. With a variety of new content as well as fresh improvements for existing features, this is one scourge you'll welcome! Players can download this major update for free today on Steam, Xbox Series X|S and Xbox One.
Leading the charge this season is the premium "Torment" DLC, a demonic bundle featuring an outstanding arena, Master, legendary skin, and much more. This DLC is free to keep for all players who claim it from October 14-21, so make sure you grab it in time!
Additional Update Highlights:
The long-awaited major update to Mayhem mode, in which players go up against each other with a range of fun and surprising sets of rules:
Six new Mayhems have been added to shake things up in unexpected ways
Mayhem mode has received a number of new and improved elements, including updated rewards, a "retry" function, and leaderboards
New Season Pass featuring two new cards in the free track – the hammer-wielding Korrrgoth, Tyrant of Gor'Rakk and the Cowardly Imps – with even more content to unlock in the premium track
A variety of exciting balance changes across the board
This update also helps kick off the BetaDwarf Month of Fun, bursting with giveaways, DLC discounts and contests for all of BetaDwarf's games. In addition to the free "Torment" premium DLC, Minion Masters'"All Masters Upgrade" and "Premium Upgrade" DLCs are available for 25% off from October 14-21, with even more excitement to come.
The realm's greatest masters face off in a never-ending conflict for glory in Minion Masters. Choose your cards and masters from across nine unique factions, each with their own specialties, and build the best deck to overthrow your opponents in quick and intense matches! Play co-op or solo PvE Adventures through the ages, or go online for epic 1v1 and 2v2 multiplayer duels.