NEWS - Tuesday, January 11, 2022

Cannibal Cuisine: All You Can Eat on all Platforms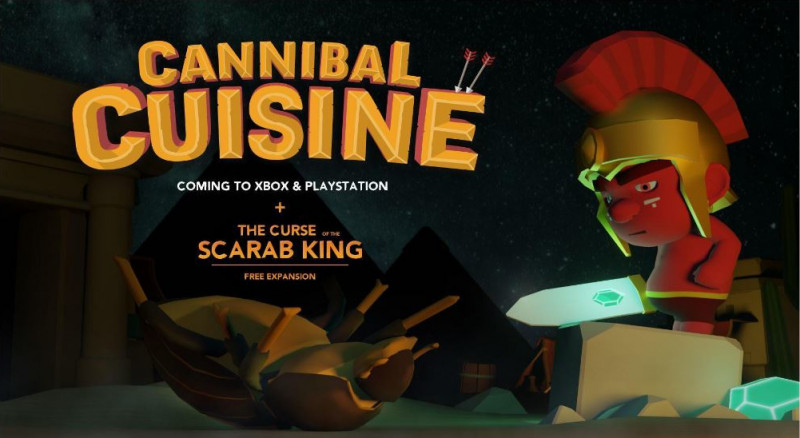 Cannibal Cuisine: All you can eat on all platforms!

Out soon on Xbox One/Series X|S, PS4 & 5 and the Microsoft Store including a free expansion: The Curse of the Scarab King
Finally theday will arrive that all gamers can play the colorful 1-4 player cartoon cooking game Cannibal Cuisine, as it's now also coming to Xbox One, Xbox Series X|S, PS4, PS5 and the Microsoft Store on January 25! And to celebrate the fact, the team of Rocket Vulture has released the new, free content update The Curse of the Scarab King, so you can ALL enjoy the feeding frenzy even more.
The tourists themselves obviously will not be as happy about it, so a bit of a fight is necessary. You and your fellow cannibals will need to cook, punch, slap and push and use platforming skills to make it through every level and finally defeat the evil god Hoochooboo in his volcano lair. A chaotic couch party experience for 1-4 players, local or online, co-op or versus!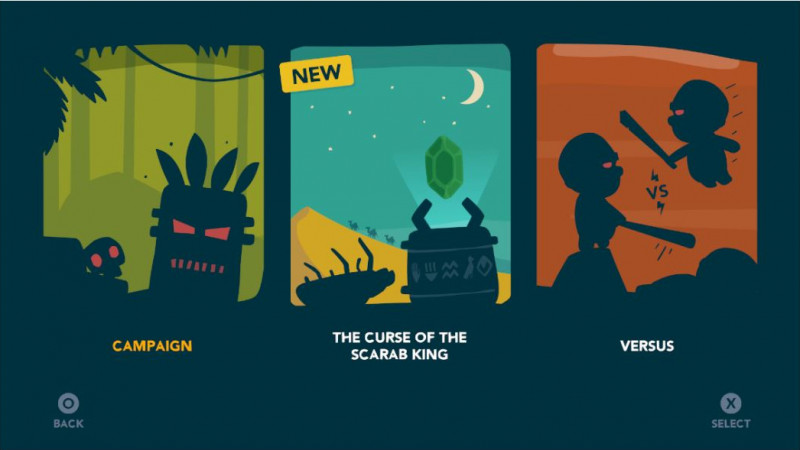 Pick a voodoo power like fire breathing or stunning stomps, decorate your chef, and test your skills in locations from trap filled temples to idyllic beaches and live volcanos. Special 'boss' levels pose a unique challenge that may not have anything to do with cooking! And obviously it will not only be on PlayStation and Xbox, but on Nintendo Switch and Steam as well. Dig into a feast of new features!
The free expansion: The Curse of the Scarab King features new levels and mechanics:
5 levels and one Challenge level

Mummies!

Ancient Egyptian inspired visuals

New cosmetic items

Collect gems from scarabs to disable traps

Don't dump your friends in the drink with switchable bridges



Yummy mummies

If you haven't already been enjoying this exquisite cuisine yet, January will be the perfect time to sit down for a virtual meal as Rocket Vulture will release a brand new, completely free campaign. The Curse of the Scarab King expansion adds 5 new levels and a new challenge level where you must face the Scarab King himself. Dig into the sand of an ancient desert and chop up some mummies that wander around - on Switch and Steam too!
Building bridges

New game-mechanics are added too, including switch-controlled bridges, so it's best to really try and be a team with your fellow cannibal friends. You wouldn't want them ending up dead... right? So apart from chopping up mummies, you now have to shut down the deadly green beams by hunting a scarab, stealing their gem, and plugging it into the gem socket.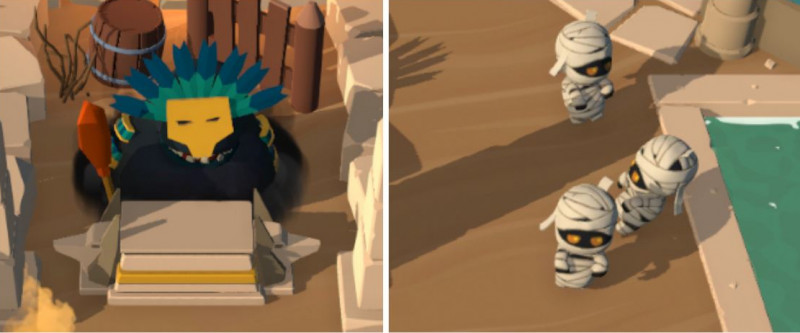 Cool Cannibal costumes

And because you want to look like the coolest cannibal ever, the new expansion also features new cosmetics, adding 8 new items – perhaps a turban or fez appeals to your sense of style, or a golden hilted scimitar will be your weapon of choice? Naturally you can combine these with the main game items, so you can pair a classic chef's hat with a new axe, or combo a Roman style plumed helmet with a frying pan. So grab a knife (or controller) because this will be the best meal ever!