NEWS - Thursday, September 29, 2022

Turbo Golf Racing's Mid-Season Update is Now Live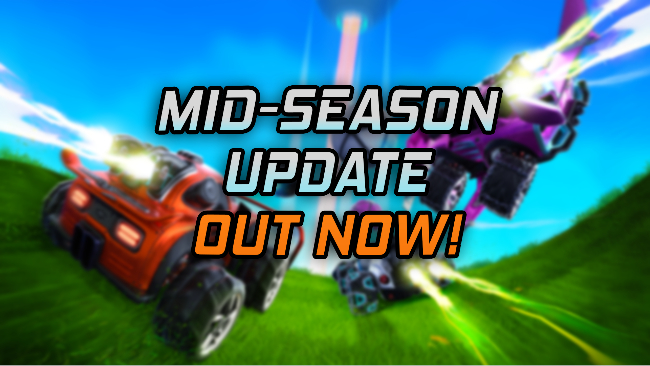 Turbo Golf Racing's Mid-Season Update is... LIVE!
Cross-platform parties, global leaderboards, new features (Levels! Power Cores! Car! Cosmetics!) and bug fixes all available in the latest free update
Hugecalf Studios has unleashed a gigantic free Mid-Season Update for the PC and Xbox sports-racing mash-up Turbo Golf Racing, with fan-requested features including cross-platform parties and global leaderboards at the top of the list. Servers across PC, Xbox platforms and Game Pass are now live with a host of new features, courses, gameplay-altering Power Cores and even a new car (meet Ratoon below!), all for free, along with various tweaks and bug fixes.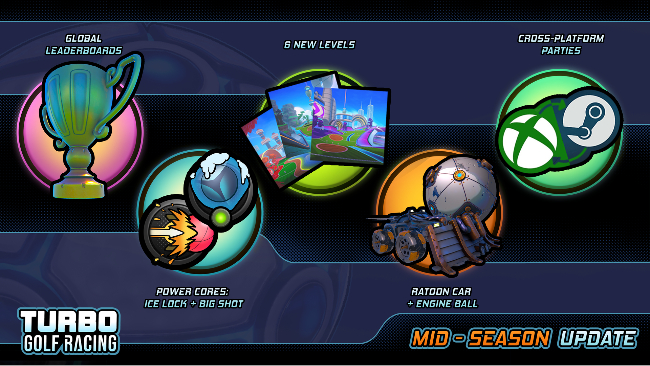 The full list of new content:

New and improved Party System: Cross-platform parties across PC and Xbox platforms. Players can add 'TGR Friends' using a friend code from any platform, and see other player vehicles in the lobby

Leaderboards: Multiplayer and Time Trial leaderboards have now been added, accessible via the Time Trial tab

Six New Levels: Rough Hill; Hurricane Lane; Three Peaks; Endurance; Par 5; Avalanche

New Active Power Core: Ice Lock - Freezes your ball in its current position for a short while

New Passive Power Core: Big Shot - Increases your ball hit power

New Car: Ratoon

New Ball: Engine

Quick Chat emote changes:
Added: Good Luck; Good Game; Thanks; Well Played; Sorry!
Removed: GG; GLHF; Party Face
New Cosmetics and Community Decals
Ratoon Car Body
Glider Spoiler
Vector Wheels
Claws Wheels
Shutter Club Shield
Diamond Decal
Cross Decal
Side Fade Decal
Side Fade Extra Decal
Catfish Decal (Community-created)
Burn Decal (Community-created)
Impact Decal (Community-created)
Floral Decal (Community-created)
Digital Finish
Crosshair Avatar
Volcano Booster
Earth Booster
Storm Booster
In addition to new content, today's Mid-Season Update introduces various tweaks and adjustments. The full list is visible on the official update blog.
What's next for Turbo Golf Racing? We're not quite ready to unveil details about Season Two just yet, but the updated content roadmap is now available: