NEWS - Thursday, April 8, 2021

Blasphemous Deluxe Edition Physical Release Coming June 29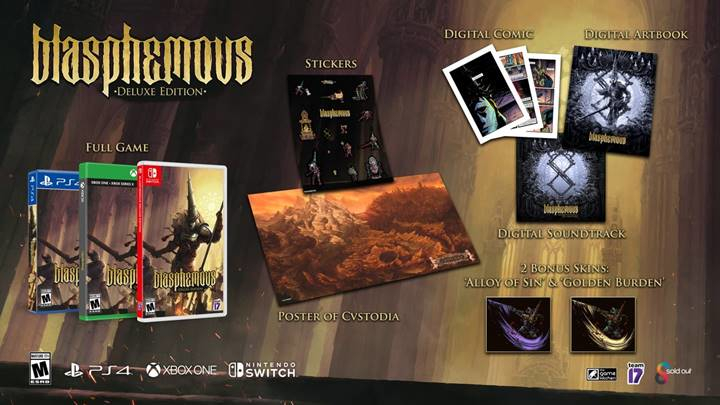 Become the Penitent One. Blasphemous Deluxe Edition physical release coming June 29
Sold Out is excited to announce Blasphemous Deluxe Edition, a physical version of the brutal action-platformer coming to the PS4, Xbox One consoles and the Nintendo Switch on June 29.


Released in partnership with Team17 and The Game Kitchen, Blasphemous Deluxe Edition features a physical copy of the full game plus a range of additional digital and physical content, including:
32-track Digital Soundtrack
195-page Digital Artbook
Digital Comic
'Alloy of Sin' and 'Golden Burden' In-Game Character Skins
Sticker Sheet
180 x 290mm Poster of Cvstodia
"We're thrilled to team up with Team17 once again to deliver this deluxe Blasphemous physical edition," said Katie Clark, Senior Product Manager at Sold Out. "Whether you're already a fan of the game or want to jump into the nightmare world of Cvstodia for the first time, Blasphemous Deluxe Edition offers an exciting physical package for players to add to their collection."
Blasphemous Deluxe Edition is available to pre-order globally at retailers now.