Interview with 2XL Games : BAJA
by Rick Wallace




XBA: Thank you for taking the time to answer some questions for Xbox Addict. First off, whom am I speaking with and what is your primary job with 2XL Games? Can you give us a little bit of your background history? What projects are you currently working on that can be mentioned?

Robb: Hello, my name is Robb Rinard. I'm a game designer currently working on BAJA for Xbox 360 and PS3. Myself and other members of the 2XL Games team have worked on a number of different series including Motocross Madness, ATV Offroad Fury, Matt Hoffman Pro BMX 2 and MX Unleashed.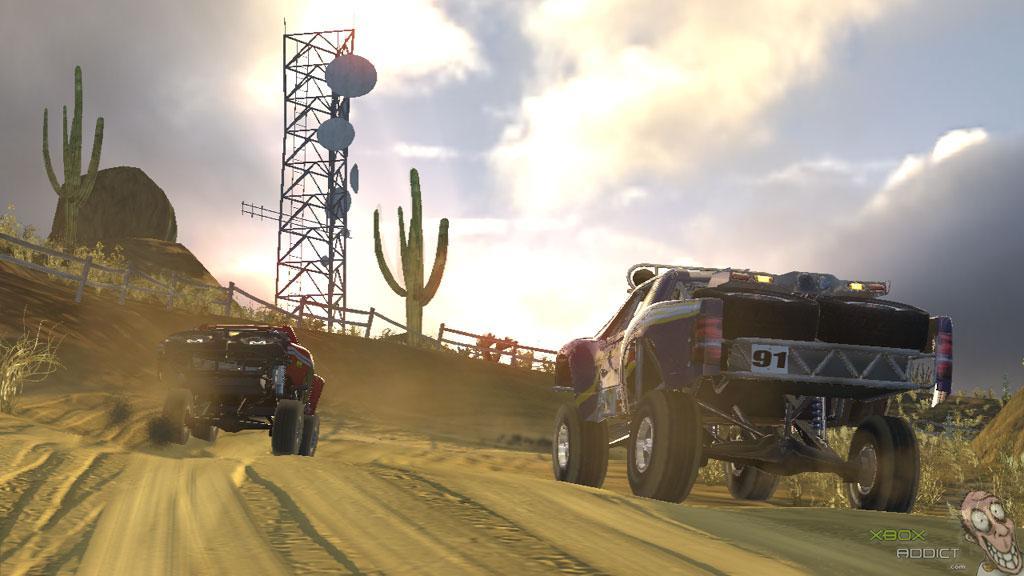 Up to 10 racers online trading dust clouds.


XBA: Baja racing has been gaining popularity slowly in the US over the years, what exactly is the sport? How are you trying to portray that in the video game?
Robb: 'The Baja of California' is a beautiful piece of land just south of San Diego that runs over 800 miles down to the southern tip where you'll find the resort city of Cabo San Lucas. It's not only a fantastic coastline, but its remote and somewhat treacherous terrain make a great setting for the sport of 'Desert Racing'. If you're totally unfamiliar with the Baja, go rent the movie 'Dust to Glory'. It's a really enjoyable film that captures the essence of what our game is all about. After watching it, I think you'll want to play BAJA.

The sport itself is comprised of 3 major organizations and a number of smaller ones. The most prevalent are: C.O.R.R. (Championship Off-Road Racing), S.C.O.R.E. who sponsors the annual Baja 1000, and 'Best in the Desert', which hosts a variety of off-road races in a number of southwestern states.

C.O.R.R. races are commonly held on what are known as 'short-course' tracks, which are good for spectators as they provide many of the same thrills as watching a Nascar race, only with 800 horsepower off-road trucks. These courses tend to have shorter lap times in the 1-2 minute range. A bunch of famous motocross stars like Jeremy McGrath and Travis Pastrana are competing in the C.O.R.R series these days.

Both S.C.O.R.E. and Best in the Desert races are long distance, point to point races through the wide open desert. They race in places like Pahrump, Prim and Laughlin, Nevada and most races span hundreds of miles, taking all day to complete. The most famous desert race of all, the S.C.O.R.E. Baja 1000 takes over 24 hours for even the fastest vehicles to complete.

So how does all this translate to our game?

There are 95 different events, including over 40 short-course tracks, 27 rally races, 9 Open Class Challenges, 7 Hill Climb Races, and 9 massive Baja stages.

Our short-course tracks look and feel a lot like outdoor nationals tracks in motocross, only there are no rhythms sections to master. BAJA is 'the off-road driving simulator', where the object of the game is to keep all four tires on the ground, sliding around turns, always looking for ways to carry more momentum through turns. That's not to say that you won't catch any air, but it's not the object of the game like it is in an MX game. This is a serious racing experience that is intended to deliver on the promise of the Gran Tourismo of off-road racing.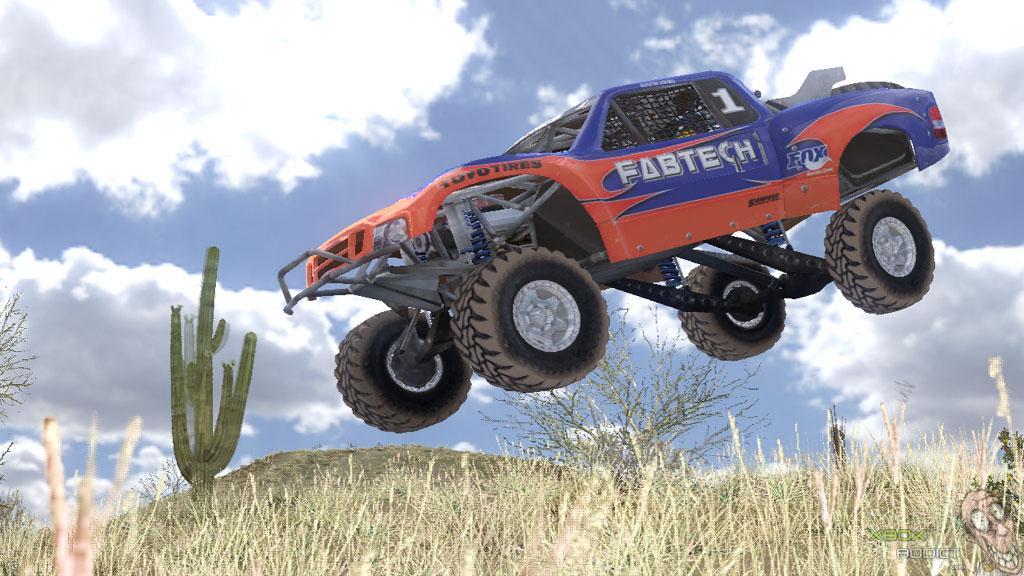 Watch out for jack rabbits!


XBA: Many Xbox Fans hold the Rallisport Challenge series close to their hearts. What is it that sets BAJA as the next level in off road rally games, and how do you gain those diehard RC followers?
Robb: I'm a long time fan of the Rallisport Challenge series as well. I actually considered it one of the games to beat in terms of driving fun as I worked on BAJA.

At the core of what makes BAJA a fresh new driving experience is the relationship between the physics and the terrain/course design. At the start of the project, I regularly told the guys, "at one end of the stick are the course designs and shape of the terrain. At the other end are the driving physics. Our goal is to work towards unifying the two systems and meet somewhere in the middle". To that end we worked on creating a great tire and suspension physics model capable of handling the ridiculously rough terrain we imagined racing on. Over time we refined the shape of the terrain, and honed in on a brand new physics model that allowed us to drive on the edge of out of control, without actually losing control.

The biggest difference you'll notice when watching someone play BAJA, versus any of the racing games on the market today, is how busy you are with the controller. Real 'Desert Racing' is about reading the terrain on the fly and quickly reacting to all the challenges the ever-changing course presents you. This forces you to spend as much time reacting to the course as you do actually steering the vehicle.

I can tell you about tons of cool features like destructible fiberglass body panels and helicopters that you can call for repair, but the bottom line is: BAJA is a blast to drive. Once you fire up one of our Trophy Trucks or Class 1 Unlimited buggies, you'll never look back. I can honestly say it's the most fun I've had playing a four-wheeled driving game.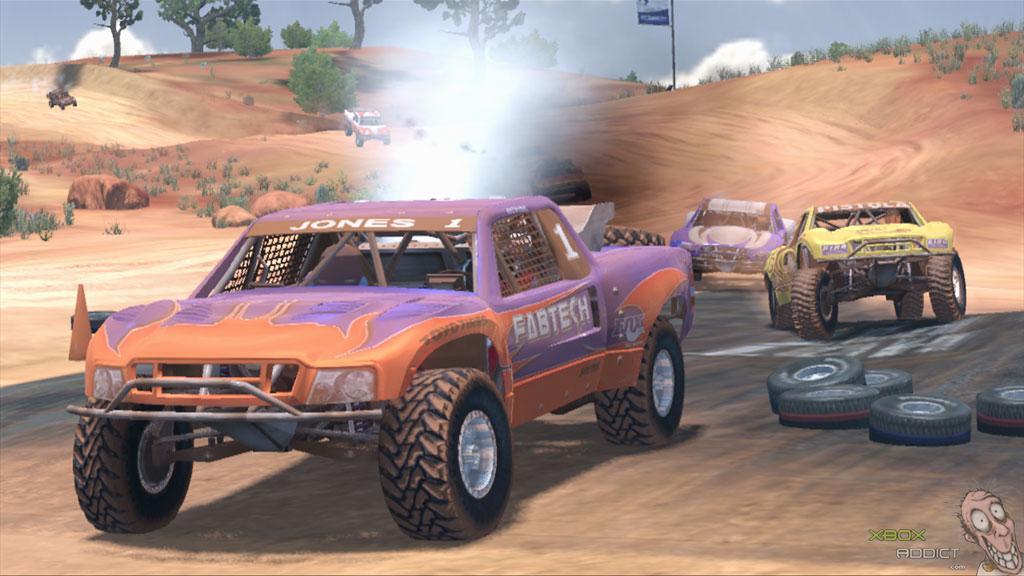 We're talking over 1 million dollars for this puppy! Dont wreck.