XboxAddict Database Launch and WALL-E Giveaway
by Edward Webb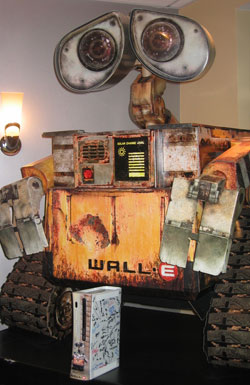 Welcome to the Xbox Addict Faceplate Database Drawing!
XboxAddict.com would like to announce our new Faceplate Database. Over one thousand manufactured and custom faceplates have been added from around the world, with information about their creators, origins and rarity.

To celebrate, XboxAddict.com is having a very special contest to give away some incredible prizes.

The grand prize is a one-of-a-kind, Xbox 360 Console signed by the entire development team of the brand new game, WALL-E. This console is a joint project of three XBA members: SpaceGhost2K designed the faceplate, MyPaintEffects airbrush painted the plate, and the signed console was made possible by a very gracious donation from gh0st_r1der. The grand prize also includes a WALL-E bag of goodies and a copy of the WALL-E video game, courtesy of WALL-E publisher THQ.

Additional prizes include super-limited edition faceplates courtesy of Xbox US, Xbox Canada, UbiSoft and Mad Catz. Mad Catz is also donating a number of their new HDMI adapters for Xbox 360 Consoles, and THO has donated additional copies of the WALL-E video game for the Xbox 360.

Come celebrate with us as we share this enormous endeavor with the Xbox gaming community!