XboxAddict and THQ Head to Wrestlemania
by Rick Wallace




Recently as guests of THQ and the WWE, we attended the 25th Anniversary Weekend of Wrestlemania in Houston, Texas. THQ had many events scheduled in our itinerary, so each day was full of new and exciting adventures. We arrived in Houston on Thursday Night, and once checked into our hotel, we met up with our THQ representatives at the local bar and grill for some food and drinks at an informal press reception. There were probably about 20-25 folks in attendance at the reception and we had everything from sushi to southwest style pizza.

Upon our arrival to our room, we found gift bags from THQ laid on our beds. Inside there was a Wrestlemania 25 T-Shirt, a Legends of Wrestlemania T-Shirt, and the new WWE Encyclopedia. This was a pleasant surprise, and many thanks to the folks at THQ for providing such a gift bag. After scanning over my itinerary, it was off to bed for the night in preparation for a full afternoon and evening of events on Friday.

On Friday we gathered in the hotel lobby in order to be shuttled over to the Reliant Center, where WWE Axxess was taking place. Once we received our press credentials, we loaded up onto the busses and headed to the Reliant Energy Sports Complex. WWE Axxess is an interactive fan fest experience that allows fans to interact with Superstars of the past and present. They also get to call matches, get autographs, have their picture taken and many other great and exciting things for the whole family. Before heading down to Axxess, we had an interview period with many of the Superstars.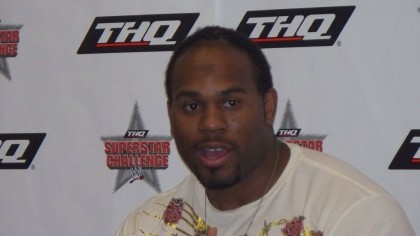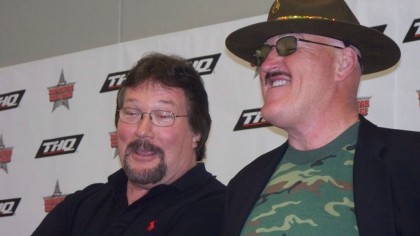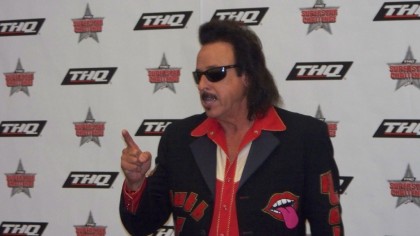 Each media representation was divided into separate rooms based upon the type of publication you worked for. Chairs were set up in each of the rooms with a few chairs at the front for the Superstars to sit and answer questions. There were about a dozen folks in the room we were assigned, so we had plenty of chances to ask questions to each of our guests. Each person was allowed to ask one question and then the next person would ask, and so forth. Our first guest was Shad Gaspard, whom is half of the Tag Team known as Cryme Tyme. Our question to Shad was "Are you a gamer, and if so, what is your favorite game all time?". Shad responded with his take on loving all games, but his most favorite of all time is Ms. Pacman. He also expressed during his interview time how they have systems set up in their cars and literally play games as they are traveling from city to city.

Our other guests during the interview session included: Paul Edwards – Lead Game Designer, Ted DiBiase, Sr. and Sgt. Slaughter, Kofi Kingston, and Shelton Benjamin. In the other media rooms, we saw the likes of Mean Gene Okerlund, Roddy Piper, Tommy Dreamer and Jerry Lawler.