Puzzle Quest: Galactrix Review
by Rick Wallace




The last Puzzle Quest title on Xbox Live Arcade, Puzzle Quest- Challenge of the Warlords, was hugely popular and set in medieval times. Of course that is a truly fitting backdrop for such a style of leveling the game uses. Now let's step into the present with Puzzle Quest: Galactrix. Infinite Interactive brings the series back to XBLA with another puzzle game that has plenty of RPG attributes to keep questers and puzzle enthusiasts happy. Only this time you'll be doing battle in the realm of deep space against pirates, aliens and a vast array of opposition. You'll do battle against the AI in the single player story mode or face off against an Xbox Live opponent using plenty of strategy and wits.


So first off, for those that may be unfamiliar with the Puzzle Quest series let's go over a few aspects of what the game is all about. In Puzzle Quest, you have a basic RPG game that allows you to level up your character and upgrade your weapons as you gain experience and in game currency. You face off against adversaries by playing a gem matching mini game. As you match gems, you'll collect the gems you match by color and add them into your inventory which will allow you to perform special attacks, repairs or upgrades to your standard attacks. In Galactrix, you'll even have the chance to do instant damage to your opponent by matching mines in the puzzle. Each mine is marked with a value which will represent the amount of hit point damage you will inflict on your opponent. Once an opponent's hit points reach zero in a round, the duel is over and the opponent still standing is the winner and gains experience and in game currency. The currency allows you to upgrade your character, learn new abilities, and master new weaponry.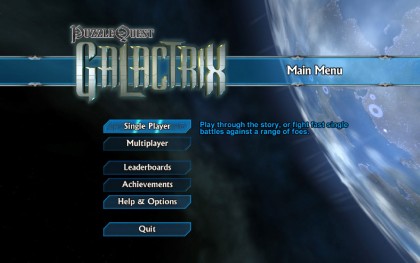 As I stated, there are many RPG elements in this game that will satisfy even the most diehard RPG fan out there. You'll be able to master new skills, mine planets for resources which help you craft items, and just plain level up your character. Most of the interfaces are fairly straight forward and each requires you to solve a puzzle in order to achieve the goal. For instance, when mining a planet you'll have a certain amount of gem types that you will have to collect. Each time you match 3 or more gems, you'll add that total to your inventory. When hacking a gate to travel to another galaxy, you'll have to match 3 or more gem colors in a specific order to complete the puzzle. So if it says you have to match 16 gems, it will tell you which color you must do first, second, third, and so forth.