Worms 2: Armageddon
by Adam Dileva








I've been a huge Worms fan since the original hit back in 1995 and I think I've bought almost every version since then. For almost 15 years, Team 17 has been putting out titles in this franchise that just happens to feature worms as the soldiers.

For those that have never played a Worms game, it's a turn based strategy game that actually takes skill not only to defeat your enemy worms, but a lot of planning and thinking ahead to efficiently do it as well.

During your turn you are able to move your worm around the terrain and then choose from an arsenal of varying weapons to inflict upon your enemy worms. Once you make your move or time runs out, then it is the other teams turn; thus the turn based gameplay. It's very simple overall and once you learn how each weapon differs from each other and how much damage they each do, it becomes quite a lot of fun to out strategize your opponent.

It's been 2 years since Worms was release on XBLA and now it's vastly improved and much more fun to inflict harm on other worms.

While the original worms for XBLA was decent, it was a very stripped down version of Armageddon for PC and wasn't nearly robust as its PC counterpart. This is what Worms 2: Armageddon is trying to remedy as there is many more options now and it is trying to feel more like its glory days on the PC.

There are some new changes that are vastly different from previous versions (such as new weapons) and the first you may notice if you've been a long time fan is that your team will now only consist of 4 worms instead of 6. While I did find it a little disappointing, it is satisfying to have matches g a little quicker overall, thus getting more games in; though it does take some getting used to only relying on 4 worms.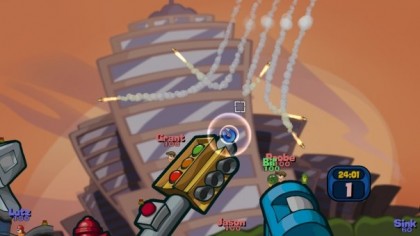 Iconic weapons that were missing from the previous Worms are now back. You've got many old favorites such as the Holy Hand Grenade, Concrete Donkey, Super Sheep, Napalm Strikes, and even some new weapons and tools such as a magnet that can attract or deflect metal incoming strikes like bazookas, grenades, and airstrikes. The new weapons feel like they fit in the Worms universe and are not only fun to use, but add a new layer of strategic play into the mix, which is much needed in a series that's been around this long.

Not only do old past favourite weapons return, but so do long forgotten modes (and omitted from Worms on XBLA) such as Rope Racing that has you getting from the start to the finish as fast as you can, but only on your rope. Crazy Crates and Fort mode also return which should be an instant sell point for old veterans like myself since these modes weren't possible in the previous game.

So before you go online to try and prove your worth, there is a training mode that will show you the ropes (even literally) and basics of how to play. Once completed there is a progressing single player campaign that has you starting out against easy computer opponents and gradually getting more difficult as you progress. There are some puzzles that need to be completed in some levels too which is a nice change of pace to bring up the monotony of defeating the CPU over and over.

As you complete training and main missions, you will earn coins that can then be spent to buy new hats and items to customize the look of your worms; even to weapons, landscapes, and forts can be bought. It's a simple reward system but it works and I found myself wanting to play more single player missions so I can collect more coins to unlock more items.