Shadow Complex Review
by Stephen Cameron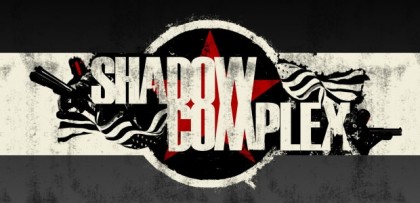 Epic is known for their landmark titles such as Unreal, Unreal Tournament, and the Gears of War series. But, mainly for developing the most beautiful and popular game engine out there. Wait a minute…who is this recently acquired "Chair" developer? They are the geniuses behind the arcade title called Undertow. How can I put it? Epic Games and Chair Entertainment got married, and Shadow Complex is the baby. Where does Shadow Complex actually stem from? No clue! Seems like a new universe.

The Shadow Complex story begins with you (Jason Fleming) in some sort of power suit saving the president from being killed. But then the story shifts gear, with a cut scene (in an arcade title?), away to you and your girlfriend Claire in the woods of Washington. Then things decide to go bad, and she gets captured by the bad guys. Now, enough about story, how does it play?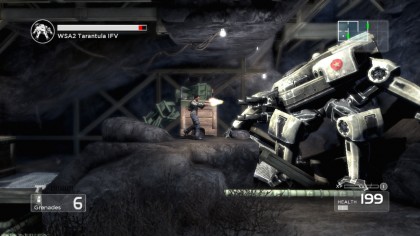 Keep in mind that the game was made by the same folks that created Undertow. So, you will notice suddle parallel similarities between the two. With the left thumbstick you maneuver our hero, and you aim with the right thumbstick, sort of like Robotron. The right trigger, is shooting of course, the right bumper you are going to use lot, it's to fire your hook, launch missiles, toss grenades, and much more. This title at first glance seems like a "run-of-the-mill" side scrolling (nearly 2-D) shooter, but it cleverly gives you the ability to take out enemies in the third dimension, and the game seamlessly switches between the two.

This title is not your run and gun arcade title. It's a complex mission based, action adventure game. The entire layout of the game world is neatly laid out in a grid/maze-like matter. It's easy to find your way around, with a large amount of trigger-based puzzles, but equally easy to get lost.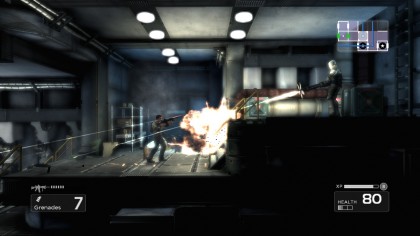 One of your objectives is to assemble the suit that you are seen with at the beginning of the story. This is when you really start kicking butt, one of the highlights is when you start running crazy fast. Incidentally, you unlock an achievement to cross the entire lake in hyperspeed….good times!

Just to give you folks an idea, I was able to muscle my way thru the game on normal in about 7 hours. But, I've only scratched the surface, the replayability is really high for this game as you can go through it over and over.

Shadow Complex is an excellent value for 1200 Microsoft points. It could easily pass as a full boxed product (At a discount of course). Hell I've seen worse original Xbox titles.

Do I recommend this arcade title? Of course, it's great bang for your MS points. Enjoy! (Score: 9/10)