Madballs in Babo: Invasion
by Adam Dileva









If you grew up in the 80's, you may remember an old toy line called Madballs. These were essentially rubber bouncy balls the size of your hand, but in typical marketing fashion, they were changed to have faces and gross eyeballs and other things on them to make them like characters and collectables. There was even eventually a Saturday morning cartoon based on these characters.


While the game Madballs in Babo: Invasion (MIBI) does have the licensed name in it, it can be somewhat misleading, as there really is only 2 of the original characters from the toy line that are playable; Oculus Orbus the eyeball and Hornhead. Playbrains studio now brings an interesting new XBLA title that is a combat orientated 3rd person platforming shooter and puzzle solver.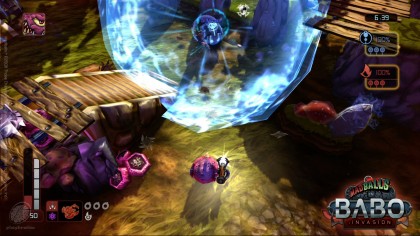 There are 2 factions in the Babo universe; the first being the Babo and the others being the evil Scorched. Each faction has 6 playable and unlockable characters and each character has their own special abilities, strengths, and weaknesses.


Gameplay is a mix of platforming while rolling your ball throughout the level and traversing tricky areas, and another side of combat as many enemies will be doing what they can to stop you. It very much felt to me like a mix of Marble Madness and Smash TV.