Trials HD
by Adam Dileva




If you've played many different Flash based games in the past, you've most likely played a Trials game before or something very similar. Trials HD is a sidescrolling motorcycle race game that is physics based and is broken up between racing and unique insane stunt segments.


The games controls are as simple as they get; Right Trigger is your gas, Left Trigger is the brake. You are able to lean forward and backwards to help on slopes by using the left stick and if you need to bail out for fun or an objective, pressing Y will fling you off your bike. You will fail many many times in Trial HD and will a simple press of B you can reset back to the last checkpoint you crossed to quickly try again.


For some reason, a few cast members from the Jackass show (Unfortunately not Knoxville or Steve-O though) are the people who do the voice over in the game. Granted you don't hear very much and when you do it's the odd scream or 'yahoo', so why famous people were chosen for this role I'm very unsure of because I would not have known myself if I didn't look it up.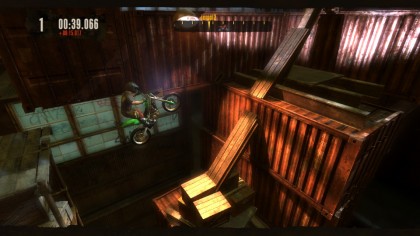 Race mode is half of the emphasis of the game and is more based on skill and careful control as you try to get from start to finish with the least amount of faults as possible. Your score is based on your total time and the amount of faults you incurred during that level.


Each track as a target time and maximum faults before you are forced to restart from the beginning. If you do well on a track you are given bronze, silver, or gold medals based on your performance.


There are 5 different bikes that can be used in races once unlocked and range from slower but easier to control beginner bikes all the way up to the fast and powerful advanced bikes that are much harder to control.


There are over 50 races and they are separated by difficulty levels; Beginner, easy, medium, hard, and extreme. The number of races in each bracket will also vary and scale depending on the difficulty. Medium for example has 11 tracks where Extreme only has 4.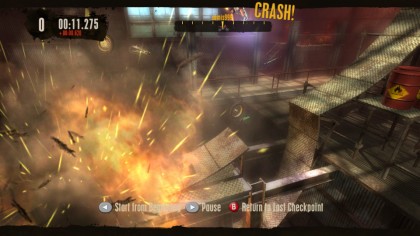 As you progress, you will also unlock up to 8 different Tournaments which is essentially just a series of different tracks played in a row where your score is based on the start of track one to the end of the final. Its fun to see how quickly you can do a certain amount of tracks in a row, but the real challenge is balancing that with how few faults you can incur while doing so.


As you race a track you will see a small meter at the top of the screen and this will show a comparison of you against people on your friends list and how close you are to each other as an icon instead of an actual ghost.


The other main section of Trails HD is the skill games. Should you bore of the racing or just want to try something substantially different, then this is the half of the game that anyone can enjoy.